However, the Duke and Duchess of Sussex chose a more blunt form of phrasing to warn of the ecological impact of bushfires and climate change.
Loading
"From areas we are personally connected to such as the communities and people we visited in New South Wales in 2018, to the fires in California and parts of Africa, we are struck by the increasingly overlapping presence of these environmental disasters, including of course the destruction of the Amazon which continues," they said.
"This global environmental crisis has now been described as ecocide. It's easy to feel helpless, but there's always a way to help."
The pair urged their social media followers to donate to the NSW Rural Fire Service or the Australian Red Cross.
The Duke and Duchess were criticised last year for taking a number of flights on private jets despite their climate advocacy.
Prince Harry later said "nobody is perfect" in terms of their ecological footprint and said the majority of his travel is on commercial planes.
Their 'Ecocide' comments are the latest in a series of interventions on the impact of global warming by senior members of the royal family.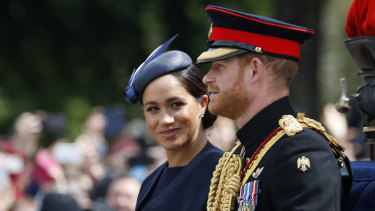 Prince William chose the first day of the new year to launch a major prize designed to help bring down carbon emissions, warning the Earth was at a "tipping point".
The Earthshot Prize will aim to uncover solutions to climate change across all parts of industry and society.
Loading
Drawing comparisons to the Nobel peace prize, multimillion-pound prizes will be awarded to five winners a year over 10 years. Recipients could include scientists, activists, economists, political leaders, governments, banks, businesses, cities and even countries.
In their statement on the Australian bushfires, Prince William and the Duchess of Cambridge said they were "shocked and saddened" about the loss of "homes, livelihoods and wildlife across much of Australia".
"We send our deepest condolences to the families and friends of those who have tragically lost their lives, and the brave firefighters who continue to risk their own lives to save the lives of others."
The Queen, who is close to renowned environmentalist Sir David Attenborough, used her traditional Christmas Day broadcast to say she had been struck by the "sense of purpose" younger generations had shown in tackling issues like climate change.
"The challenges many people face today may be different to those once faced by my generation, but I have been struck by how new generations have brought a similar sense of purpose to issues such as protecting our environment and our climate," she said.
Bevan Shields is the Europe correspondent for The Sydney Morning Herald and The Age.