"We take advice from the [NSW] RFS – it's different terrain, different vegetation."
The NT crews are on a six-day stint, and worked as much as 15 hours on both Friday and Saturday to limit the fire damage to the region.
"We worked into the night," Mr Rowley said. "We couldn't leave what we were doing."
The team, which will be replaced by a similar-sized contingent later this week, naturally flew into NSW. A road trip would have covered some 4000 km if they had taken that course.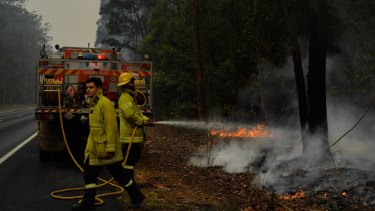 "It's good to be able to help," Luke Ezzy, another of the NT group said, as he prepared to hose down flames that were beginning to climb tree trunks, potentially creating another hazard for road users if they topped onto the highway.
The team has been staying at the nearby HMAS Albatross naval base, not so unfamiliar surroundings for some. Mr Rowley, for instance, holds down two jobs in Darwin – one in Fire & Rescue, the other in the navy there as part of rescue operations.
The 20-strong contingent was split about 50-50 between professionals and volunteers.