She told The Age and The Sydney Morning Herald that Australia, along with its international partners, had "long been concerned" by Iran's behaviour in the Middle East.
Senator Reynolds said the government was following the situation in Iraq and the broader region "very closely" and continued to "encourage restraint and avoid escalation".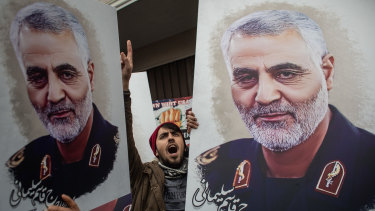 "Australia's focus remains on supporting Iraq's stability and unity and ensuring a de-escalation of tensions," Senator Reynolds said.
"The safety and security of Australians in Iraq and across the region, including our embassy staff and ADF personnel, remains our top priority."
The region is bracing for an Iranian retaliation with the region on high alert after the leader of Lebanon's Hezbollah group warned US military across the region "will pay the price".
Australia has about 350 troops based in Iraq as part of Operation OKRA, with about 2000 more throughout the Middle East and North Africa in a support capacity.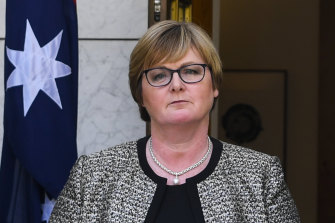 The Australian embassy in Iraq was placed into lockdown on Saturday following the drone strike, which Prime Minister Scott Morrison admitted on Saturday had blindsided the US's allies in the region.
Mr Morrison said he was not advised of the Trump administration's intentions prior to the strikes, but was in "constant contact" with allies in the region and had made efforts to ensure the safety of Australians.
"The United States took this action based on their own information and they took that action without discussing it with partners," Mr Morrison said on Saturday.
Loading
He said he had "been aware" of Mr Trump's concerns in relation to some practices by Iranians "for some time", but he would "leave it to them to talk to what their actions are".
The US-led Operation Inherent Resolve, a training mission to which Australia contributes, paused its operations on Monday due to heightened security concerns.
In a statement on Monday, the Combined Joint Task Force said it was "fully committed to protecting the Iraqi bases that host Coalition troops".
"This has limited our capacity to conduct training with partners and to support their operations against Daesh and we have therefore paused these activities, subject to continuous review."
Loading
"We remain resolute as partners of the Government of Iraq and the Iraqi people that have welcomed us into their country to help defeat ISIS.
"We remain ready to return our full attention and efforts back to our shared goal of ensuring the lasting defeat of Daesh."
Mr Trump doubled down on his claim that he would target Iranian cultural sites if Iran retaliated on Monday and threatened "very big sanctions" on Iraq if US troops were forced to leave the country.
Rob Harris is the National Affairs Editor for The Sydney Morning Herald and The Age, based at Parliament House in Canberra