"It's going to hurt hard," he said as he watched the woodchip fire burn. He defended his home outside town when flames came earlier in the week and plans to do so again if they return with the hotter weather forecast for Friday.
"It got within a couple of hundred metres of us and the wind changed and it rained," he said.
While the Adelaide has not been called on, Mr Seroka and other residents gathered on the headland said they were happy to have it there. With a hospital and accommodation for hundreds on board, they are comforted by its presence.
"It's the sort of ship you need," Mr Seroka said.
Australian Army Lieutenant-General Greg Bilton said it was a "fair observation" that demand for the Adelaide's services had not been significant.
"You'll see more activity through today and I think further activity tomorrow to call on those logistics capabilities," Lieutenant-General Bilton said.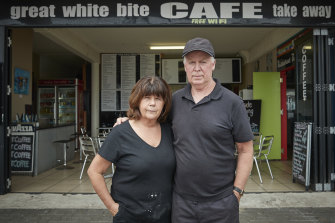 Down the headland, May and Geoff McCabe have reopened their takeaway near the usually bustling Eden Wharf, despite fires scorching their property on New Year's Eve as they sheltered dozens of people at their shop.
The McCabes, who met at 15 and have been together for 41 years, kept their house outside town, but flames burnt the rest of their property.
"We really should be at home, you can see the circumstances, but we've got the business here, it's a no-win situation," Mrs McCabe said.
Power is out at their home and they have been sleeping at their shop on some nights.
But they have to keep the business open because they do the vast majority of their trade during the summer months, they said.
They also feel a sense of responsibility for their staff, about nine of whom would normally be working long days to meet tourist demand at this time of year.
When The Sydney Morning Herald visited, the only employee working was Kayne Tate. Mr Tate has family in the nearby town of Cobargo, which was devastated. "They lost everything," he said.
Loading
Even the mussels that are growing in the underwater farms off the coast will most likely have spoiled, Mr McCabe said.
The caravan parks throughout town that are usually bustling with tourists are empty too.
Perishables the McCabes had stockpiled to cope with intermittent road closures have spoiled but they are determined to keep going.
"The minute everyone else tries to open, then we'll all sink together," Mrs McCabe said.
Nick is a journalist for The Sydney Morning Herald.