On Thursday, about 120 fires were ablaze in NSW. Nearly 60 of those were uncontained.
NSW Rural Fire Service spokesman Jonty Bruce said very high to severe fire danger could mean bushfires could flare across the South Coast, the Southern Highlands and the Snowy Mountains.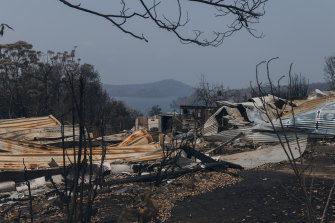 "We'll see north-westerly winds, high temperatures with a south to south-westerly wind change in the afternoon which will see an increase in fire activity," he said.
"The message we want to get to people is if they don't need to be in [those areas], don't be there."
Temperatures in fire-affected parts of the state's east are expected to hover around the mid-30s on Friday. The mercury is set to hit 42 in Penrith and Richmond and 39 degrees in Liverpool. A top of 30 degrees is forecast for inner Sydney.
One of the major fires causing concern is the blaze burning through the Snowy Valleys region near Tumut.
"Firefighting crews have done a lot of work strengthening containment lines but people need to remain vigilant," Mr Bruce said.
Monaro RFS spokesman Andrew Dillon said the Cooma-Monaro region remained a tourist "leave zone". "There's still the chance lives could be threatened in certain areas," he said.
He urged residents to evacuate to Cooma or Bombala if they did not feel safe.
"Friday's another bad day. It's looking like it won't be as bad as last Saturday, but there certainly will be strong north-westerly winds, high temperatures and low humidity again, which will place a lot pressure on the existing fires."
The RFS warned residents living outside the South Coast towns of Narooma, Moruya, Tuross and Batemans Bay should be ready to flee.
RFS Far South Coast deputy incident controller John Cullen said the southerly change was expected to sweep from about 7pm before moving up the coast.
"That change will be quite blustery, around 40 to 50km/hr, and erratic, but abating around midnight so we've some advantage there if something does go wrong with fires breaking out," he said.
The rising fire threat has coincided with clean-up work in areas devastated by blazes that tore the region last weekend.
So far this bushfire season, at least 1870 homes in NSW have been obliterated, with 954 of those homes lost since January 1. Across Australia, 27 people have been killed.
On Thursday night, the pilot of a water-bombing helicopter contracted to the RFS survived after ditching the aircraft in a reservoir in the Bega Valley Shire.
Victorian Premier Daniel Andrews extended the state of emergency he had declared for fire zones in the state's east and north-east, where temperatures are set to soar past 40 degrees on Friday.
Mr Andrews said it was difficult to predict what would happen over coming days but the conditions posed "a significant challenge" for authorities which they "don't underestimate".
Loading
Mr Morrison said two navy ships – HMAS Adelaide and HMAS Choules – remained off the coast of southern NSW to help with evacuations or supplies.
"We are a long way from the end of this crisis and this disaster," he said.
On Kangaroo Island off the coast of South Australia, emergency warnings were issued for blazes which broke containment lines near the towns of Vivonne Bay and Parndana on Thursday.
On Thursday, Premier Gladys Berejiklian said the state government will spend $1 billion over the next two years rebuilding roads, rail lines, schools and bridges in towns devastated by bushfires.
Megan Gorrey is the Urban Affairs reporter at The Sydney Morning Herald.