The chamber has created a video of firecrackers going off – which can be played on smartphones – and is encouraging people to play the clip rather than release firecrackers during Chinese New Year.
And more than 7000 people have signed a petition – started by Gunditjmara woman Sissy Austin – urging Ballarat City City Council to cancel its Australia Day fireworks and donate the money to bushfire victims.
"Local Aboriginal community members have been expressing concerns about the January 26 fireworks for quite some time now, it is time to listen to their calls for concern," they say in the petition.
Meanwhile, Melbourne City Council – which faced criticism for proceeding with fireworks on New Year's Eve – said it would review the program and investigate entertainment options other than fireworks.
Loading
"We're also aware that community attitudes towards fireworks are changing," said lord mayor Sally Capp.
Whitehorse mayor Sharon Ellis said the council wanted to send a strong message to parts of the state ravaged by fire that the municipality stood with them.
"I just thought it was insensitive for us to be having fireworks, which is a reminder of what they are potentially going through," Cr Ellis said.
She said Whitehorse staff stood ready to assist bushfire-affected municipalities if requested and the council would also discuss donating the $15,000 allocated for fireworks to bushfire relief.
Chinese Precinct Chamber of Commerce president Wayne Tseng called on Chinese community organisations to refrain from releasing firecrackers – normally an integral part of Chinese New Year celebrations – and donate the savings to bushfire relief charities.
"Many of our community have also taken up residence in rural NSW and Victoria," Mr Tseng said. "We have donated generously and we still believe there is more we can do."
The chamber is releasing posters to Australian Chinese businesses to explain to their customers why there will be no fire crackers this year to support bushfire victims.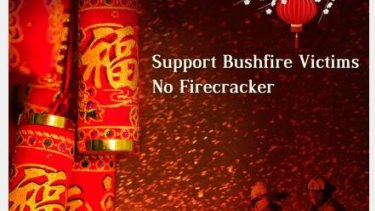 Mr Tseng said that to show further respect all Chinese New Year imagery had firecrackers replaced with bundles of chilli, corn, apples and cherries, which symbolised abundance and recovery.
The City of Ballarat released a statement saying it had already paid the company engaged to deliver the fireworks display on January 26.
"Rather than forfeiting this monetary outlay, we will take the opportunity to transform the event into a major fundraising effort for all those bushfire victims who need it the most," mayor Ben Taylor said.
Cr Taylor stressed the fireworks at Lake Wendouree would be subject to weather conditions and any fire restrictions in place.
Ms Austin – who started the petition opposing the fireworks – said if the council had already paid for the fireworks the display should be postponed.
She said the local Aboriginal community had long opposed fireworks to celebrate Australia Day because for some it was a day associated with trauma. She found it particularly hard to understand how the council could proceed while the country was in crisis.
"To be celebrating with fire is to me incredibly insensitive," Ms Austin said.
Mornington Peninsula Shire is also proceeding with Australia Day fireworks, depending on the weather.
Jewel Topsfield is Melbourne Editor of The Age.