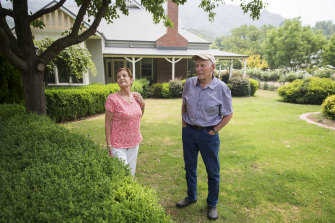 The Bakkums are staying, but most people from Harrietville, which is normally bustling with more than 2000 tourists this time of year, have already gone.
"There were about 100 people at our community meeting last night, but you wouldn't know it now," Ms Bakkum told The Age on Thursday. "There's not a soul around."
Harrietville, about 25 kilometres south of Bright, was first threatened on New Year's Day and extreme weather forecast on Friday once again has the town on edge.
"Of course it's scary," says Ross Larard from the Harrietville Hotel. "You're facing the first Panzer division and the Luftwaffe bearing down the mountain. It's got to be scary, no matter who you are. But the stalwarts who stayed last time (on New Year's Day) are staying again."
Mr Larard and his wife Dianne, who only bought the pub three weeks ago, are keeping it open as a community gathering point and shelter for emergency services.
Until the fires arrived at Harrietville's doorstep, they had been looking forward to a bumper summer season. Every room was booked through January – all of them are now cancelled.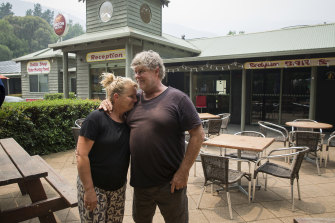 The town's market has also been cancelled. So has the popular Harrietville Music Camp. And with accommodation closed, hospitality and cleaning staff have been forced elsewhere for work and may not return this season.
"This will be devastating to many businesses here," Mr Larard said.
Jeff Swan from the Harrietville bakery and post office said the Christmas and new year period made up about a quarter of his business's annual turnover.
"It's the busiest time of year for most of us," he said. "Usually we're just teeming with people. The only saving grace is we've still got plenty of coffee."
At Bright's Beechworth Bakery, there are normally queues to the front door in the school summer holidays. On Thursday, bar a handful of staff members making food packs for firefighters, the shop was empty.
Supervisor Sue Parkin encouraged visitors to return to Bright once the threat had passed.
She was among the hundreds of locals who fled Bright for Wangaratta when the fires approached on Saturday, but she returned during the week's benign conditions.
"For now it's watch and wait and see," she said of the renewed threat. "At this stage, I'm not going again but I'm prepared to if its the safe thing to do, or if we're directed. Life's more important.
"I think it's a feeling of nervous expectation here."
Zach is a reporter at The Age. Got a story? Email me at zach.hope@theage.com.au