Mr and Ms Musai met in their late teens and were together for about five years before they got married. They were planning on having children and were two weeks away from moving into their own home.
They were allegedly shot from behind at the front door of the Musai family's Yarraville home on Salisbury Street where the couple had been living.
The pair had just returned on New Year's Eve from a short trip away celebrating their first wedding anniversary.
Ms Musai, 25, died on New Year's Eve and Mr Musai, 29, died a day later in hospital.
The couple were farewelled at a funeral in Carlton at the Albanian Australian Islamic Mosque on Saturday.
A week after the tragedy, their families remembered Ms Musai – who hadn't had any contact with her father for many years – and Mr Musai as a "fairytale couple" who were the "envy of all" who knew them.
"To say they were happy together is an understatement," Mr Musai's elder brother Drilon told The Age on Tuesday.
"You hear people talk about other couples and how much love they have for one another but this was truly something else.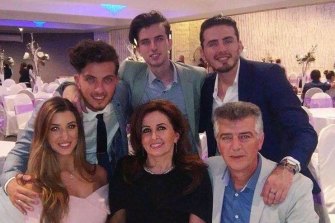 "I'll always be thankful to them for making me believe that fairytale couples do exist. They set the bar extremely high for everyone."
The couple met through Ms Musai's brother Arben, who was a high school friend of Mr Musai. The couple bonded over their similar cultural backgrounds and cultural beliefs.
Mr Musai's parents – mother Zirka and father Alil, who is a well-known leader in the Albanian-Australian community – are now grappling to come to terms with what happened to their son and his wife, who they considered a daughter.
Simone is a crime reporter for The Age. Most recently she covered breaking news for The Age, and before that for The Australian in Melbourne.