Asked what he thought brought down the plane, Trump replied: "Well, I have my suspicions".
"I don't want to say that because other people have those suspicions also. It's a tragic thing when I see that. But, somebody could have made a mistake on the other side. It was flying in a pretty rough neighbourhood. Some people say it was mechanical, I personally don't even think that is a question," he said.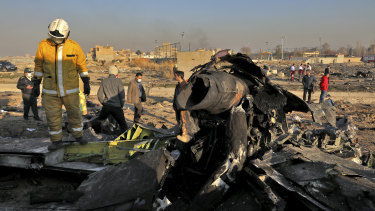 Iran has strenuously denied it shot down the plane and has repeatedly blamed its downing on a mechanical fault, such as a catastrophic engine explosion.
There were 82 Iranians, 63 Canadians, 11 Ukrainians and 10 Swedish nationals on board the doomed flight, as well as four Afghans, three Germans and three Britons.
It was not revealed whether US officials believed Iran deliberately or accidentally shot down the plane, however the incident and Tehran's subsequent denials will trigger a new round of tensions in the already volatile Middle East.
Two US officials have told global wire services that it was "highly likely" an Iranian anti-aircraft missile brought down the plane.
The disaster has the hallmarks of Malaysia Airlines flight MH17, which was shot down over Ukraine by a Russian-made Buk surface-to-air missile in 2015, killing all 298 passengers and crew members, including 38 Australian citizens and residents.
Ukraine initially agreed with Iran's assessment that mechanical or technical error was to blame for this week's crash but quickly walked back from that amid mounting evidence of foul play.
The secretary of Ukraine's national security council, Oleksiy Danylov, told Ukrainian media that investigators wanted to search for the possible debris of a Russian-made missile at the crash site near Tehran's main airport, citing images that suggested the aircraft fuselage suffered shrapnel damage.
Loading
The plane, fully loaded with fuel for its 2300-kilometre flight, climbed to just short of 8,000 feet before it lost all communication with ground control.
A preliminary report by Iran's civil aviation authority said the pilots never made a radio call for help. The report also claimed the plane was attempting to turn back to the airport when it caught fire and exploded on impact.
Ukraine International Airlines said the doomed plane was built in 2016 and had been serviced just two days before it crashed.
Bevan Shields is the Europe correspondent for The Sydney Morning Herald and The Age.