"It just shows how hard these people have been working and the conditions they have been working under," Monaro Rural Fire Service district inspector Langdon Gould said.
Mr Gould said Friday had "placed many challenges" upon firefighters, aviation and plant operator support personnel and the incident management team.
"The numerous large fires around the Snowy Monaro local government area were under difficult conditions. Their hard and consistent efforts has resulted in minimal extension of fires in those accessible areas," he said.
The RFS was still anticipating the challenge of a southerly wind change on Friday night.
Former prime minister and RFS volunteer Tony Abbott arrived at the Adaminaby fire shed on Friday morning to fight the Adaminaby complex fire in Kosciuszko National Park, which was flaring up around Shannons Flat to the park's east in the afternoon.
"The fire season has been the same for me as for everyone else," he said. "It's been long, it's been arduous."
He said there had not been a fire day worse than any other in the past, "but obviously [the season] has been a lot longer".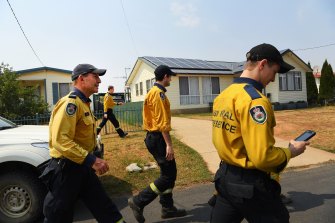 "[Today] is one of many days that has promised disaster. Let's hope that's not what happens," he said.
Northwesterly winds strengthened around Adaminaby at midday as residents prepared for the afternoon.
In Shannons Flat, home to about 80 people and hundreds of cattle and sheep, local RFS captain Bob Killip said the community has been preparing for Friday's conditions since they found out the weather forecast.
Many towns in the Monaro Alpine region have been living with fire on their doorstep since New Year's Eve. "Fire is everywhere," Mr Killip said.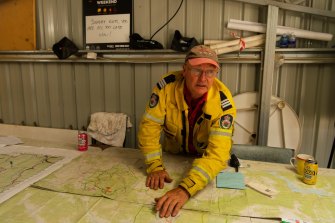 Adaminaby resident Ben Russell spent the afternoon "cruising around and seeing what happens" after filling up his tank with fire retardant foam and water, and running containment lines around his home.
One home had a sign in its window which read: "we have evacuated xoxo be safe".
A series of fires in the lower Kozcisusko National Park threatened Thredbo and Perisher ski resorts, but aircraft laid retardant lines and snow-makers were switched on to prevent major damage.
The Werri Berri fire in the Bega Valley was also anticipated to merge with the Badja Forest Road Fire when a southerly change arrived on Friday night.
Natassia is a journalist for The Sydney Morning Herald.
Laura is a journalist for The Sydney Morning Herald.