The Ournie Creek fire already merged with the massive Green Valley fire earlier in the week.
Now-realised fears that multiple fires would merge follow hard on the heels of the Gospers Mountain "mega-fire", which ignited in Wollemi National Park and swallowed an area seven times the size of Singapore.
North and north-westerly winds will give way to a southerly change at some point overnight, which combined with merging fires, could provide additional challenges from multiple entry points. Mr Clark said they were "expecting fires to potentially spread in two directions overnight."
"What we're really seeing with a number of these fires merging is a number of small fires started by lightning strikes, across the landscape. And as they grow, we see fires merging," Mr Clark said.
"It provides a challenge for firefighters as when they merge, it increases the size and opens up more uncontained perimeter."
At 7.30pm, more than 2500 firefighters were battling more than 150 blazes in NSW, as the bushfires crisis escalated across four states. More than 60 of those NSW fires were uncontained.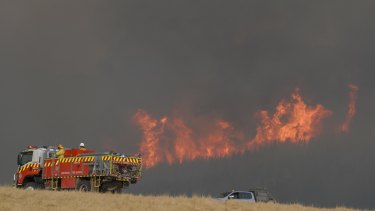 Residents were also fleeing fire fronts tearing through parts of eastern Victoria and Kangaroo Island off South Australia, where crews faced rising winds, bone-dry bushland and blistering temperatures. Also homes in Perth were under threat.
The NSW Rural Fire Service issued an emergency warning for a fire burning near Coonabarabran on Friday afternoon, as another blaze ignited near Faulconbridge in the Blue Mountains. RFS Commissioner Shane Fitzsimmons said both blazes were most likely sparked by lightning strikes.
Nine fires were at "watch and act" level across the Snowy Mountains, Southern Highlands and South Coast, including East Ournie Creek and Dunns Road.
Green Valley was upgraded to emergency just after 7.30pm.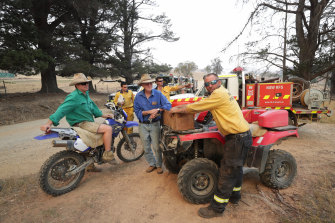 The only other fire to reach emergency level during the day was near the town of Coonabarabran in the state's central-west. That fire, at Yearinan Station Road, was downgraded to 'watch and act' just before 6pm.
Local man Jake McArtney said the dense bush areas were "like a time bomb."
"What it is really, there's so much overgrowth and where the grass is it just grows so quick, it's so high – just like every other bushfire.
Loading
The town of roughly 2500 people is considered a gateway to the Warrumbungle National Park and the Pilliga Forest, which are packed with dry, dense bushland.
Winds gusting up to 90km/h are set to sweep through the state later in the evening. Temperatures soared past 40 degrees in inland areas, while the RFS warned large blazes in the south-east could spread under worsening conditions, or shoot off embers that might create spot fires.
The blustery conditions are expected to bring mixed fortunes for firefighters overnight – dropping temperatures on the ground while making blazes more unpredictable after dark.
The RFS spokesman said crews "hope the cooler weather will reduce fire activity" into the weekend.
"But there is a window and we have seen wind-driven fires this season, because everything is so dry, where fires are moving very quickly and burning very erratically even overnight."
NSW Premier Gladys Berejiklian said Friday was "going to be a long night for some communities".
Monaro RFS public liaison officer Andrew Dillon said: "Firefighters have done a lot of work over the past seven days to prepare for today's bad fire weather, and we can't guarantee that fires will hold."
A fire burning in Adaminaby, near Cooma, threatened to cross into the ACT on Friday, prompting authorities to advise residents to avoid travell
Loading
ing to the bushland region south of Canberra.
NSW RFS community safety officer Marty Webster said weather conditions were "playing out pretty much as expected" on the NSW South Coast on Friday afternoon but were "likely to deteriorate".
"We're quite concerned about how that southerly [wind] is going to play out."
Total fire bans apply in Greater Sydney, Illawarra and Shoalhaven, Far South Coast, Monaro, Southern Ranges, Central Ranges, Southern Slopes, North Western NSW, Eastern Riverina and Northern Riverina regions.
Megan Gorrey is the Urban Affairs reporter at The Sydney Morning Herald.
Matt Bungard is a journalist at The Sydney Morning Herald.