The leg-spin great put the cherished piece of memorabilia up for auction on Monday to raise money for the bushfire appeal.
The figure is well over twice that the $425,000 one of Don Bradman's baggy greens commanded in 2003.
Such has been the interest in purchasing the item of one of Wisden's five cricketers of the century, the auction site had trouble dealing with the traffic.
Warne preferred to wear the wide-brimmed hat out on the field but that did not stop punters from wanting to purchase one of the most treasured items in Australian sport. Warne's cap comes with an autographed certificate of authenticity.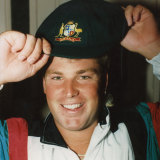 One valuer spoken to by The Herald and The Age earlier this week had expected Warne's cap to sell for $500,000 if there was a bidding war but the final price has blown even that out of the water.
All proceeds are being donated to the bushfire appeal.
The price had reached over $500,000 at 5pm on Thursday but several duels featuring two buyers from NSW and one from Queensland sent the figure skyrocketing.
Warne said on Monday that selling his cap was the "least he could do" to help victims of the devastating fires that have ravaged the country.
"The horrific bushfires in Australia have left us all in disbelief," Warne wrote on Instagram. "The impact these devastating fires are having on so many people is unthinkable and has touched us all.
"Lives have been lost, homes have been destroyed and over 500 million animals have died too.
"Everyone is in this together and we continue to find ways to contribute and help on a daily basis.
"This has led me to auction off my beloved baggy green cap (350) that I wore throughout my Test career (when I wasn't wearing my white floppy hat). I hope my baggy green can raise some significant funds to help all those people that are in desperate need."
Andrew Wu writes on cricket and AFL for The Sydney Morning Herald