"The academy is resolute that the response to the bushfires must extend beyond the immediate and essential need to rebuild and recover," he said.
The statement called for wide-ranging efforts to protect built and natural environments.
"All the while, Australia must take stronger action as its part of the worldwide commitment to limit global warming to 1.5 degrees above the long-term average to reduce the worst impacts of climate change," he urged.
Mr Morrison on Friday dismissed criticism of the government's climate policies, saying the Coalition acknowledged the reality of global warming – including its contribution to the catastrophic bushfire season – and was taking a "balanced" approach.
"We continue to consider our policies carefully here and we understand that we don't want job destroying, economy destroying, economy wrecking targets and goals, which won't change the fact that there have been bushfires or anything like that in Australia," he told Sydney radio station 2GB.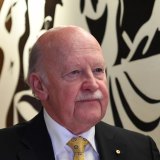 He said directly linking one emissions reduction policy to this summer's fires was "ridiculous" and "very disappointing".
The Australian Financial Review reported on Saturday that the government failed to act on an internal disaster resilience plan put forward in mid-2018, with the document warning of emergencies on "unimagined scales, in unprecedented combinations and in unexpected locations".
Speaking in Sydney on Saturday, Opposition Leader Anthony Albanese questioned the government's acceptance of climate science.
"It would help if we had a government that didn't go to an international conference, while these fires were burning, and argue for less action on the international stage, not more," he said.
The Coalition government under former prime minister Tony Abbott committed to reducing greenhouse gas emissions by 26-28 per cent on 2005 levels by 2030. While the Coalition has since struggled to settle on a policy to achieve the target, Mr Morrison insists it will be achieved.
Loading
David Lindenmayer, a leading ecologist at the Australian National University and member of the Australian Academy of Science, said it was significant the academy would issue such a strong statement on climate policy as it was a "very cautious" and sober organisation.
"The academy isn't going to be making statements without thinking them through deeply and looking carefully at all the scientific evidence," he said.
Professor Lindenmayer said Australia's international reputation was suffering as a result of its climate policies, with foreign scientists and policymakers unable to understand the vexed domestic politics surrounding the issue.
Loading
Fergus Hunter is an education and communications reporter for The Sydney Morning Herald and The Age.