While not directly criticising the Trump administration's decision to kill Soleimani – which European officials indicated they were not informed of in advance – EU leaders raised concerns about the fallout. Their statements were tepid and, in some cases, slow. European Commission President Ursula von der Leyen took nearly four days to comment.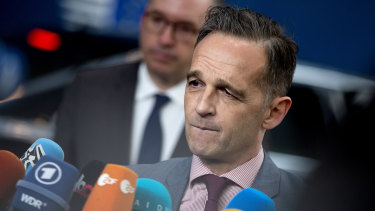 The Trump administration's frustration was underscored by US Secretary of State Mike Pompeo, when he said last week that European leaders had not been "as helpful as I've wished".
"The crisis risked jeopardising years of effort to stabilise Iraq," EU foreign policy chief Josep Borrell Fontelles said, citing implications for the "decisive work" of the international coalition fighting Islamic State militants.
Some European countries have pulled troops out of Iraq, while others have repositioned them for what they said would be a temporary period. A NATO training program for Iraqi troops has paused operations due to security concerns. Iraq's Parliament has called for US troops to withdraw. The US has rebuffed the request.
Amid the tensions with Iran, President Donald Trump on Thursday suggested an expansion of NATO to include Middle Eastern countries and said the organisation should play a bigger role in the region.
Loading
NATO Secretary-General Jens Stoltenberg said Friday that he had spoken to Trump and that the organisation was looking into what it can do further to combat "international terrorism".
The European foreign ministers also discussed possible consequences for Iran if it was determined that one of its missiles shot down a Ukrainian passenger jet carrying 176 people near Tehran on Wednesday.
Early Saturday, Iran said its military "unintentionally" shot down the plane and blamed "human error" for the incident, confirming claims made by Western intelligence agencies.
Much would depend on Iranian cooperation going forward, said Stef Blok, the Dutch minister of foreign affairs, adding that the investigation first needed to be concluded.
Loading
The bloc called on Tehran to return to its commitments under the nuclear deal, officially known as the Joint Comprehensive Plan of Action, or JCPOA.
Tehran has gradually reduced its adherence to the deal – intended to put curbs on its nuclear program in return for sanctions relief – since the United States withdrew in 2018 and reimposed its sanctions, adding more on Saturday. But as recently as last week, Tehran said it was open to negotiations with the Europeans.
There are indications that European patience may eventually come to an end. Speaking to reporters in Berlin, German Foreign Ministry spokesman Rainer Breul said discussions had taken place with Britain and France on whether European countries should trigger a dispute mechanism within the deal that could lead to a "snapback" in UN sanctions on Iran.
However, Fontelles said that was not discussed by the wider group on Friday. "What is clear is we stick to the survival of this deal," he said.
The Washington Post