This week one local farmer was forced to shoot 30 of his badly burnt cattle.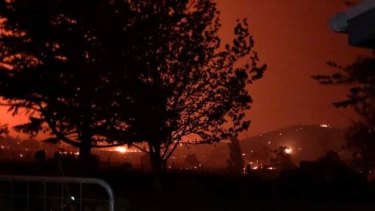 As the local publican – who is also a farmer – explains: "When the farmers aren't making money – no one is."
Greg Brick, 52, owns the Buchan Caves Hotel, which burnt down five years ago. It was painstakingly rebuilt but, when blazes tore through the area about two weeks ago, he lost his home and his farm.
He now lives upstairs in his pub, which will be financially crippled for weeks while spooked tourists stay away.
Mr Brick's experience losing his pub five years ago has taught him how to start again when life turns to rubble. He speaks with the good humour and positivity displayed by so many in the wake of these infernos – their attitudes belying their situation.
Looking over the scorched rolling hills from his pub, Mr Brick speaks of how difficult it is for locals to access relief funding.
He says governments are neglecting remote towns like his.
No government agencies have entered the town, or nearby Gelantipy, to speak to residents and organise relief payments.
"There's been no one and I just reckon that's wrong," Mr Brick says.
"Donations from the community have been great, but as for someone from DHHS [the Department of Health and Human Services] actually being down here and filling out forms with people who have lost everything – we've seen no one.
"Let's get this money to the people that need it, because it's not happening at the moment."
The closest place to meet government officials is more than 70 kilometres away at Bairnsdale, where state and federal government officials have set up temporary hubs to process financial assistance claims.
Hours-long queues exist at those hubs, with residents from many other towns including Lakes Entrance also flocking to them.
A queue seen by The Age on Friday stretched from one 50 metre arc to the other along the boundary of a local football ground.
Roadblocks in and out of Buchan have also made it difficult for residents to drive to Bairnsdale.
Many have not had time for a long round-trip – made longer by the queues. They've been preoccupied with piecing their lives back together.
Community leader Susie Edwards estimates only a small fraction of those who require funding have so far been able to access it.
A mobile vehicle including officials from various government agencies will begin making trips to remote towns this week, with Buchan set to be one of the first towns visited.
Mr Brick has not yet applied for relief funding. He's been busy cooking meals for firefighter strike teams for the last two weeks.
"I don't need the funding immediately, but some people really do," he says.
A DHHS spokesman said the demand for Victorian government Personal Hardship Assistance Payments (PHAP) had been "very high" and had "stretched the resourcing of relief efforts".
"Everyone presenting to the relief centre has been assisted in some way, although waiting periods have been longer at busy times."
Paul is a reporter for The Age.