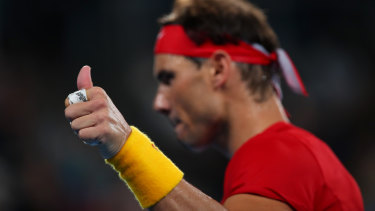 Not everyone agrees, however. Nadal, for one, thinks its proximity to the similar-format Davis Cup creates "confusion for the spectators" and also demands too much of the players.
In Sydney on Sunday, the Spaniard pulled out of the doubles decider citing exhaustion and blaming the tight turnaround between the two tournaments.
"I can't change my mind that two 'World Cups' in one month is not real," he said after losing to the world No.2 Novak Djokovic.
Loading
"For the health of our sport and for the benefit of our sport, it is in my opinion mandatory that we fix it."
It is no surprise ATP Cup managing director Ross Hutchins disagrees.
"The objective was to create a major new global event to kick off the year and we feel the first edition of the event has certainly delivered," he said.
"It's been a great start and we look forward to continuing our successful collaboration with Tennis Australia as well as fine-tuning and developing a few elements for future years to ensure the event goes from strength to strength."
The fans who turned up to watch – of whom there were more than 220,000 over 10 days – back that up.
The final in Sydney between Spain and Serbia, which boasted headline acts of Djokovic and Nadal, brought 10,223 through the doors of Ken Rosewall Arena.
Australia's semi-final tie, in which 20-year-old Alex de Minaur fought valiantly against Nadal, attracted 9510, with over half-a-million viewers watching on TV at home.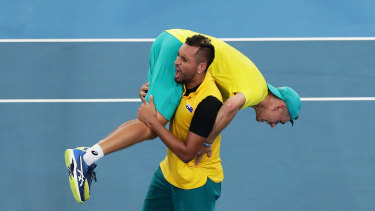 Another to have embraced the tournament is Kyrgios, who just six months ago said tennis was "boring". Fast forward to the ATP Cup and Kyrgios says things are "unbelievable".
"It's been a lot of fun. I just had the opportunity to play with Australia and hang out with these boys again, which was pretty awesome," he said.
After the semi-finals, Kyrgios revealed just how much the competition's team energy had assisted his character and his game.
"When I'm playing for myself, I don't know, I find it hard to get up. My motivation levels are pretty low most of the time. Something about these guys and playing for them brings it out in me," he said. "I'm a team player."
Australia's ATP Cup captain Lleyton Hewitt is also a fan of the tournament, describing it as a supportive platform for players to test their weaknesses before the Australia Open.
Loading
"They're going to have the weight of expectation of playing in front of their home crowd, both seeded players in their own grand slam," he said ."For them to be able to go through those nerves a couple of weeks out from a major is pretty important."
That is some pretty significant praise for a tournament that had attracted criticism from the start,not least because its introduction meant the Hopman Cup, a mixed teams event in Perth with a history spanning 30 years, had to be axed to make way.
Another problem was the ATP Cup overlapped – and overshadowed – the women's Brisbane International.
Both issues underscore a major complaint that the ATP Cup focuses solely on the men's game. It is an issue organisers are keen to address. Tennis Australia said it was "very keen to establish an equivalent women's event as soon as possible".
Sarah is a journalist for The Sydney Morning Herald.