But CCTV footage, recorded by cameras outside the house and played in Heidelberg Magistrates Court on Monday, shows one of John's hands up while Senior Constable McLeod's hand is by his side, which defence lawyer Rahmin de Kretser suggested showed John trying to punch the officer.
"That's you coming out swinging?" Mr de Kretser asked.
John replied: "I don't swing, mate."
The disability pensioner repeatedly denied he swung at or tried to punch Senior Constable McLeod, and said police initiated the physical contact.
"There were bad intentions when that door opened," John said.
Mr de Kretser: "The only one with bad intentions was you."
John: "Take that back, please. I am not a violent person."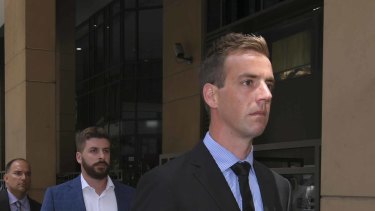 The court heard that the three officers who have not been charged reported seeing John being physically and verbally aggressive, that he tried to punch Senior Constable McLeod, and that the spray came after the man raised his hand.
John admitted telling the police to "f— off" but said any evidence he tried to punch the officer was a lie.
Loading
"No way, that's a total lie. I did not attack police on that day," John said.
John has for years struggled with chronic pain from cancer and back surgery and had previously asked police to shoot him.
On the day of the incident he told police they could either shoot him or "mace" him, but he told the court he said those "stupid" things to get police leave him alone. He has said he wasn't suicidal that day and denied he wanted to "suicide by cop".
"I was like a jellyfish on the ground, I had six people on me," he said.
The CCTV footage shows John handcuffed on the front lawn when Senior Constable McLeod says: "Definitely don't shape up to me, mate, ever. That's just silly."
John responded: "Well don't come to the house."
On Monday, John rejected the officer's statement: "There is no way I shaped up to him."
When asked about prior assault convictions he said: "I could have been Charles Manson. Their job is to handcuff me and bring me before the courts.
"I thought if you put your hands on police you'd get charged … why wasn't I charged? Am I special?"
Victoria's Independent Broad-based Anti-corruption Commission alleges the three officers were excessive and unjustified in their use of force. IBAC investigators allege Senior Constable McLeod punched John in the stomach, Constable Edney hit him with a baton and stepped on his head, and Senior Constable Hilgart sprayed a high-pressure hose in the man's face.
John said he was trying to withdraw from opioids at the time, and had regularly had ambulance paramedics and police at his house from 2011.
Another defence lawyer, Malcolm Thomas, read John a series of notes made by paramedics in which they believed he appeared to be seeking drugs.
John denied ever feigning illness to get drugs and couldn't recall ever being aggressive to police or hospital staff.
Asked if authorities were conspiring against him, John said: "When it comes to Victoria Police I don't know, I have lost faith in the system."
The hearing continues on Tuesday.
with AAP
If you or anyone you know needs support call Lifeline 131 114, or beyondblue 1300 224 636.
Adam Cooper joined The Age in 2011 after a decade with AAP. Email or tweet Adam with your news tips.