Mr Drever, from Seaford Rise in South Australia, is the business manager for an Adelaide renovations construction company Brightspace Homes. His LinkedIn profile states that he holds a bachelor of engineering, chemical engineering from the University of Adelaide. Mr Reilly is from Big Hill in the Southern Tablelands of NSW.
It is alleged Mr Drever was known as "the cook" and was leading the manufacturing operation, while Mr Reilly was observed on the property late last year constructing the shed.
The men have been under police surveillance since last year and were seen meeting in Canberra on Friday before travelling to the property where they allegedly spent the next two days cooking 45 litres of methylamphetamine oil.
It is alleged the pair had finished the first stages of the cooking process and had plans to transport the oil to another property where it could be dried out into crystal form.
Police will allege the men were on the property "with express intent to manufacture ice", drug and firearms squad commander Detective Superintendent John Watson said on Monday.
"A ventilation system was found within one of the sheds, as well as a number of irrigation  hoses hanging from the ceiling, [consistent] with the manufacture of methylamphetamine."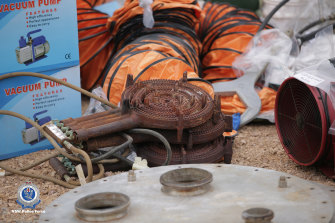 He said the 45 kilograms of methylamphetamine oil located at the property would amount to about 40 kilograms of ice crystals with a street value of about $36 million.
Investigators allegedly discovered three sheds on the property, two of which were about 12 square metres in size and contained custom-made vessels with the capacity to cook more than 1000 litres of methylamphetamine.
More than 500 items consistent with drug manufacture were allegedly located, including eight stainless steel condensers, a 1000-litre stainless steel reaction vessel, glassware, precursors, gas burners and several gas bottles.
They will be examined by officers from the chemical operations unit.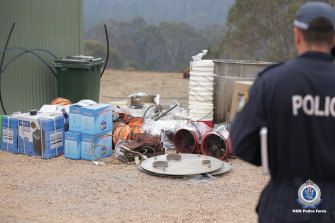 The third shed consisted of living quarters and chemical and equipment storage. Inside investigators allegedly located a rifle, a shotgun, $4500 in cash, mobile phones, electronic equipment and documents.
Superintendent Watson said it was concerning just how close the laboratory was to other members of the community and a firefront.
"It was somewhere within 15-20 kilometres of the nearest bushfires, and there was, in fact, backburning going on closer than that. If anything was to happen, or an explosion, then obviously fire would ensue throughout that region."
He alleged there was "flagrant disregard for local communities" as the site was potentially "volatile and unstable".
"Given the environment we have down the South Coast in particular, it was totally irresponsible."
The arrest was the culmination of an investigation launched in August last year by detectives from the drug and firearms squad, assisted by the Australian Criminal Intelligence Commission and South Australia Police.
Police will allege Mr Drever travelled to NSW via Melbourne and Canberra on Thursday last week for the sole purpose of the drug cooking operation.
Both men have been charged with manufacturing a commercial quantity of a prohibited drug.
They appeared in court on Saturday, when they were refused bail. They are due to appear at Queanbeyan Local Court on Monday.
Lucy Cormack is a crime reporter with The Sydney Morning Herald.