Ms Zukowski was to defend the charge in a trial starting on February 3, however the case will not proceed after she was found dead in her inner west home on Sunday. Her death is not being treated as suspicious.
News the trial would not go ahead was received with "mixed emotions," Mr Lindsell's mother Kathy said. "I'm still struggling with how I feel or what I feel," she said.
"We've been getting more anxious and stressed as it's been getting closer."
But trial or no trial, she said, "we are still missing our person – Jeff."
In 2018 Mrs Lindsell said she "didn't even have to close [her] eyes" to recall the night she saw her son emerge from the granny flat at the back of their family home covered in flames.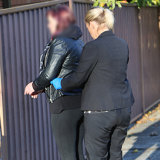 The night before his death Mr Lindsell was among friends at the Gymea Hotel, before walking home alone around midnight.
A man and a woman were then allegedly heard having an aggressive argument in his granny flat, before it was later overcome by flames.
The Herald previously revealed investigators believed the fire was intentionally lit while Mr Lindsell slept and two taps were left running inside the flat. Later, four lighters were found in the wreckage.
In 2018 Detective Senior Constable Christopher Preston told the Supreme Court that when Mr Lindsell's father tried to use a garden hose to extinguish the blaze, only a trickle of water came out.
"He said it was a catastrophic loss of pressure," Mr Preston said. "He used the words, 'I could have pissed further'."
It was alleged Ms Zukowski stood among neighbours while the flat burned, telling one Mr Lindsell was not inside, before allegedly crouching near the property's water meter and turning the tap.
The investigation involved more than 100 hours of surveillance device material and more than 1000 intercepted phone calls.
In one of the calls Ms Zukowski allegedly told her mother she may have dropped a cigarette before the fire.
Loading
Her barrister Michael Smith told the court in 2018 that police "cannot exclude, nor will they ever be able to exclude, that the start of this fire is an accident".
Mr Lindsell's death will now be referred to the coroner.
With the trial terminated Mrs Lindsell said the family would focus on rebuilding the backyard.
"We will build a memorabilia room for Jeff, with some of his framed [sporting] jerseys." Among them will be a Chicago Bulls basketball jersey, "his favourite team." The family is saving to travel to Chicago to see the team play in the future.
Support is available for those who may be distressed by phoning Lifeline 13 11 14; Mensline 1300 789 978; Kids Helpline 1800 551 800; beyondblue 1300 224 636.
Lucy Cormack is a crime reporter with The Sydney Morning Herald.