"This conflict had not been included in the declaration that had been signed. This relationship was known to SA but this did not cause SA to ask that the conflict be declared or require any management strategies to be implemented. There is a risk that the sport linked to this organisation was provided with a competitive advantage compared to other sports and potential applications by that SA employee."
Kate Palmer, the former boss of Netball Australia, shocked the sports world late in October when she announced her resignation as chief executive of SA. "It's not me," she said of the anonymous employee, explaining that her very senior role and conduit to the SA board meant her staff made recommendations on grants for projects such as community toilet blocks and lighting at ovals.
However, Palmer, who is highly regarded in the sports world for her decency and diligence, has clearly learned public service speak after three years in Canberra.
Asked to comment whether she had earlier expressed concerns on the way Senator McKenzie's Department of Sport distributed the grants, Palmer said: "I'm not prepared to comment on that."
There were two parallel processes to finalise which of the 2056 applications from sports clubs around Australia would receive the $100 million of taxpayers' money: one run by SA and another by the Department of Sport.
Loading
The reality is that, apart from the Auditor-General's concerns about the role of the anonymous SA employee, it was Senator McKenzie's Department of Sport that directed the grants to Coalition, or "targeted" marginal electorates.
The report found that "41 per cent of the approved projects (by Senator McKenzie's office) were not on the list of 426 endorsed by the SA board". Furthermore, almost half the successful applications went to seats vital to the government's re-election hopes.
An SA spokesman declined to say whether the anonymous staffer was still employed but pointed out SA had accepted the recommendations of the Auditor-General in the report.
"For privacy reasons we will not be providing further detail on this individual," he said.
Loading
"We don't believe any single sport received an unfair advantage. The majority of successful applications were for multi-sport facilities, benefiting numerous sports."
Palmer did dispel the widely-held belief she resigned as SA chief executive following a rift with its chair, John Wylie.
"John Wylie has been incredibly supportive," she said of her decision to resign and return to Melbourne to support her critically-ill mother.
"My three-year contract is up on January 31 and it is a good decision for both of us."
Speculation over her replacement will be eclipsed by conjecture over the future of Senator McKenzie as a minister and comparisons made with Kelly's exit a quarter of a century ago.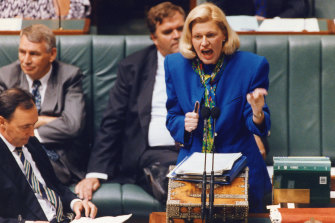 Kelly admitted much of the grant approval work was done on a whiteboard in her office, prompting then auditor-general John Taylor to admit he couldn't determine if there was political bias in the program.
"Proper documentation of the reasons for decisions would be able to satisfy any questions concerning the selection of approved grants," he said in his report.
Loading
But it didn't stop a House of Representatives Standing Committee grilling Kelly for five hours, after which she resigned.
This week's report was more damning of Senator McKenzie's role and the No.1 conclusion was that, despite a battalion of public servants at SA and the Department of Sport, "the award of grant funding was not informed by an appropriate assessment process and sound advice."
Roy Masters is a Sports Columnist for The Sydney Morning Herald.