Loading
"Given there's been a bit of light shower in parts of Gippsland and it's been a little cooler, the fire activity is probably not as active as it was earlier in the week so [the smoke] may not be quite as bad as it was earlier in the week," Bureau of Meteorology forecaster Dean Stewart said.
"But certainly there's a fairly high chance of some smoke haze around, just how bad it's going to be is a little uncertain.
"It looks like through the weekend and even on Monday we will still have pretty much the easterly airflow which could push smoke into the central part of Victoria."
By Wednesday, a northerly airflow should clear some of the smoke from central Victoria, he said.
Melbourne's smoky conditions dominated discussion during the qualifying rounds of the Australian Open after Slovenia's Dalila Jakupovic was forced to retire from her round one qualifier due to the conditions on Tuesday.
Several male tennis players who played qualifying rounds when Melbourne's air quality was poor called for a union to be established that better represents all players, regardless of their ranking.
Last year's Australian Open bolter Stefanos Tsitsipas, now ranked No.6 in the world, said he felt "horrible" playing in the smoke earlier this week.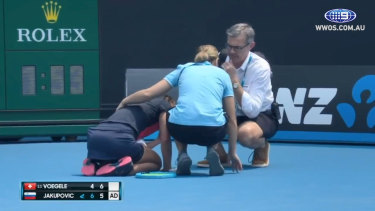 However, Australian tennis star Samantha Stosur said any apprehension players feel about competing in the Australian Open with the smoke haze would be eased if tournament officials kept them fully informed of the decision-making process.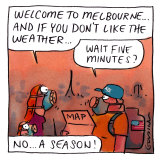 Childcare centres were told to keep children indoors, and all posties were handed P2 face masks.
The government has warned Victorians to avoid exposure with smoke, and is "encouraging businesses and organisations to consult with WorkSafe and have policies in place to keep their staff safe on days of poor air quality".
Rain is predicted for the East Gippsland region and may have an impact on the smoke, but Mr Stewart said it was still not clear whether storms and showers would reach the firegrounds.
"The atmosphere is unstable, so yes, it's likely to be showers and storms but it's impossible to say how much rain will fall over those fires," Mr Stewart said.
"With any storms that do occur, it won't be like we had a few weeks ago with lightning and no rainfall, there is likely to be some localised heavy rain with any storms that do develop."
with AAP
Simone is a crime reporter for The Age. Most recently she covered breaking news for The Age, and before that for The Australian in Melbourne.
Peter Ryan is a sports reporter with The Age covering AFL, horse racing and other sports.