"We're expecting the rain to continue throughout the weekend and it's likely to hit the south of the state and South Coast on Monday," he said.
"It hasn't been as much as we would like across [the] fire grounds."
Bureau of Meteorology forecaster Neale Fraser said elevated fire danger would return on Wednesday and Thursday as north-westerly winds warmed the state.
"We'll see a burst of hot, dry weather," he said.
"While moisture is good in the short term, we'll have another five days of benign conditions before the fire weather ramps up again."
He said temperatures across the north of the state would climb to 40 degrees on Wednesday, before Sydney and the Hunter regions and the south of the state sweated through similar temperatures on Thursday.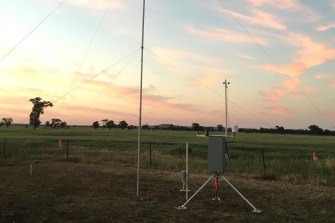 There are 77 fires burning across NSW with more than 30 yet to be contained, RFS statistics show.
Rain has fallen across most fire grounds over the past 24 hours. The rain has helped to put out a number of smaller fires.
Where backburning operations were planned as a containment strategy, minimal rainfall might hinder this important work, the RFS said. However, for the most part, the rain is welcome relief, it added.
One of the greatest challenges the RFS faces is collecting weather data in remote areas between the bureau's weather stations. To counter this, the service uses portable automatic weather stations, known as Paws.
The RFS can deploy the solar and battery-powered devices wherever they are needed – including in areas near fire grounds.
The data is fed to local fire stations, giving crews accurate readings of wind and temperature conditions in their areas.
There are about 30 Paws in the field, spread out from the Queensland border to the south of the state.
Loading
"Every second, it collects data," Mr Bruce said. "It's important to know what the weather is doing where the fire is. We can pick the devices up and move them to where they have to be."
The devices also record rainfall near fire grounds. For example, one device near Bombala, which is caught between the Werri Berri and Rockton fires, has recorded 76.4mm of rain since Tuesday.
Another device near Braidwood, which has two large fires on either side of it, has recorded 9.4mm.
The devices are also being used in Victoria and Queensland, with the results made public by the weather bureau.
Laura is a journalist for The Sydney Morning Herald.
Nigel Gladstone is The Sydney Morning Herald's data journalist.
Most Viewed in Environment
Loading