"It is my whole family's hope that today's agreement allows them to start building a happy and peaceful new life."
The Queen added she was "particularly proud of how Meghan has so quickly become one of the family" – an observation that will prompt some scepticism given the royal rupture that has torn at the family for two years.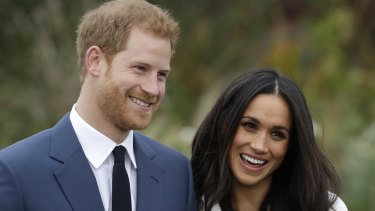 A bombshell January 9 announcement that the Duke and Duchess of Sussex wanted to step aside as senior members of the royal family, earn their own income and split their time between Britain and Canada caught the Queen, Prince Charles and Prince William off guard.
The trio, supported by palace officials, have been working every day since to devise a new model that gives Harry and Meghan the freedom they want but does not threaten the monarchy or risk a public backlash.
Under the new arrangements, the pair will be known as Harry, Duke of Sussex and Meghan, Duchess of Sussex. They will not use their royal highness styling but, in a move designed to avoid the appearance of looking petty, will not be stripped of them.
Loading
In a surprise development, the pair have agreed to repay to taxpayers the £2.4 million ($4.5 million) cost of recent renovations on their Frogmore Cottage in the shadow of Windsor Castle. They will live in the property when they are in Britain.
In a separate statement from the Queen's, Buckingham Palace said Harry and Meghan were "grateful" to the Queen and family for their support.
"As agreed in this new arrangement, they understand that they are required to step back from royal duties, including official military appointments. They will no longer receive public funds for royal duties.
"With the Queen's blessing, the Sussexes will continue to maintain their private patronages and associations. While they can no longer formally represent the Queen, the Sussexes have made clear that everything they do will continue to uphold the values of Her Majesty."
Harry and Meghan will now be free to earn their own income in North America, however it is unclear whether they will be able to use their "Sussex Royal" brand after registering it as an official trademark last year. Experts have suggested the pair could attract tens of millions of dollars in revenue a year from speeches and sponsorships.
Loading
Harry has also accumulated substantial wealth after inheriting millions from his mother, Princess Diana, and a large share of the tens of millions of pounds the Queen Mother transferred to a trust fund before her death.
He will also continue to receive funds from Prince Charles, though it is not known whether that will be via the profits earned by the Duchy of Cornwall – a huge grouping of mostly regional land and buildings managed by the Prince of Wales. Profits from the 700-year-old private estate have long been used to fund the public, private and charitable activities of Prince Charles' household and those of William and Harry.
The palace said it would not comment on who would fund the couple's security arrangements, but hinted the British taxpayer would continue to carry the cost via the Home Office.
"There are well established independent processes to determine the need for publicly-funded security," it said.
Bevan Shields is the Europe correspondent for The Sydney Morning Herald and The Age.