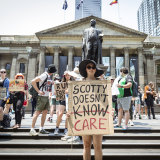 "We're demanding that Scott Morrison be sacked, we're demanding that the fossil fuel corporations that caused this pay a levy for what they've done, and we're demanding a complete transition to renewable energy," Ms Jackson said.
She said said the strong turnout wasn't a surprise.
"The rage has been building for a long time. I'm really glad to see that rage being turned into action."
The group chanted "we'll be back" as they marched down Exhibition Street, with Ms Jackson saying plans were already afoot for a third rally.
"I think it's excellent people are willing to come out week after week. We want to organise one of these every week for as long as it takes," she said.
"This coming Friday we'll be protesting again outside the Liberal Party headquarters in Melbourne."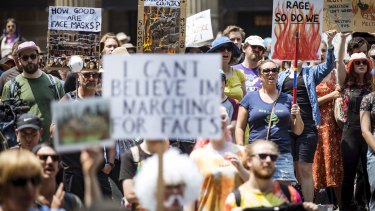 Jess Armstrong said she was "marching because I'm sick of the inaction". "We need action on climate change, we need to move to renewable energy and we need the government to declare a climate emergency."
The Prime Minister signalled more action on climate and significant help for bushfire-affected small businesses during his talks on Friday with business and community leaders about how to spend the government's $2 billion recovery fund.
Loading
Those at the meeting told The Sydney Morning Herald and The Age Mr Morrison made a point of telling the group he accepted the science on climate change and was acting upon it, as scientists discussed the need for new research and technology in the wake of this summer's devastating bushfires.
Cormac Ritchard marched for the second time on Friday and said the Prime Minister's actions don't match that sentiment.
"The Prime Minister saying he acknowledges the science behind climate change is quite frankly bullshit," Mr Ritchard said.
"Where's the climate change policy? Where's the switch to renewable energy? Why are we still pushing ahead with the Adani coal mine?
"We keep hearing that action may harm the economy, but a dozen people are dead, millions of hectares have been burnt, surely nothing can compare to that? We can talk, but we need a climate change policy that addresses the actually happening."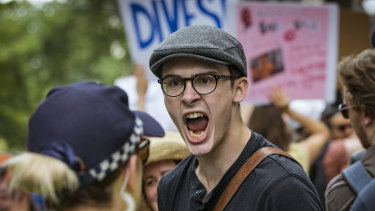 Premier Daniel Andrews had asked people not to attend the first rally, particularly when the people battling bushfires around the state were utterly "exhausted".
"Climate change is real – but now is not the time," he said ahead of the January 10 rally.
Tate Papworth covers breaking news for The Age.