Sydney is forecast to get 5 to 15 millimetres on Sunday and 1 to 6 millimetres on Monday, with possible storms.
The annual Opera in the Domain on Saturday night was cancelled ahead of the predicted downpour.
A spokeswoman for Opera Australia, which puts on the event in conjunction with the Sydney Festival, apologised for the cancellation.
"Due to weather conditions out of our control, Opera Australia has made the difficult decision to cancel today's scheduled event Mazda Opera in the Domain to ensure we do not put the safety of our guests, cast or crew at risk," the spokeswoman said.
North-eastern parts of NSW had already been soaked by falls reaching as much as 250 millimetres in a 24-hour period in places such as Clothiers Creek. More than 60 sites collected at least 100 millimetres, Mr Shabren said.
Loading
Sydney, too, collected its best rains for four months, watering parched parklands and quelling nearby bushfires. The 48-hour tally to Saturday morning of more than 55 millimetres was almost as much as the combined totals for October to December.
The heavy falls, though, brought the potential for bushfire debris – from dead trees to ash and soil – to be washed into dams and rivers, contaminating the water.
The Macleay River, in the state's mid North Coast, suffered a sudden drop in water quality, killing hundreds of thousands of fish, the government said.
Officials, though, were breathing sighs of relief after Sydney's main catchment area avoided heavy falls. The Special Area around Lake Burragorang and Warragamba Dam was almost entirely burned during the recent fires.
WaterNSW said Sydney's main water supply catchment received only "minor rainfall" overnight into Saturday morning.
The Warragamba catchment received an average of 6 millimetres in the 24 hours to Saturday morning, while the Upper Nepean catchment collected 16 millimetres, Woronora catchment 9 millimetres, Shoalhaven catchment 10 millimetres, and the Blue Mountains catchment 6 millimetres.
"There are no impacts to raw water quality at this time," a WaterNSW spokesman said, adding the catchments were expecting as much as 15 millimetres on Saturday.
The coming thunderstorms, though, may affect inland regions including the Blue Mountains, the Bureau's Mr Shabren said.
Higher humidity and the potential for rain will douse fire dangers for the next days before they ramp up again towards the end of the week.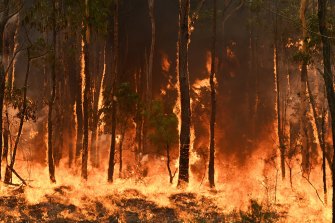 Temperatures will begin to rise by Tuesday and approach or exceed 40 degrees for western Sydney and large parts of the state by Thursday, the bureau predicts.
Peter Hannam writes on environment issues for The Sydney Morning Herald and The Age.
Most Viewed in Environment
Loading