Two detective senior-constables from the anti-gangs division who were driving an unmarked police car heard the shots and drove around the area.
When they drove past the clubhouse, police say multiple shots were fired at the unmarked car but missed. The officers were also uninjured.
Detective Senior Sergeant Tim Hayward from the armed crime squad would not say whether the initial shooting appeared to be from a rival gang.
He said Outlaws members were not cooperating with police, and refused to elaborate on whether there was any particular tension between the bikie gang and any other organised crime groups at the time.
"Any firearms incident is extremely serious, and it's only luck that a number of peple weren't injured or killed as a result of the firearms incidents," said Detective Senior Sergeant Hayward.
"So we're obviously trying to solve them, even though we're having a number of people who are uncooperative."
Detectives have obtained CCTV footage that appears to show someone point a firearm at the police car and discharge several shots.
Police believe the dark-coloured SUV used in the drive-by shooting was burnt out a day later.
An Audi Q7 SUV was set alight on September 28 in a laneway off Hallam Valley Road in Dandenong South.
Moments earlier, the SUV and a silver VW Golf were captured on CCTV cameras driving down the street in a convoy.
The VW Golf was then seen driving away, and police believe the offenders left in that car.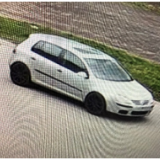 The SUV was stolen from a residential street in the western suburbs earlier that month, but it is  unclear who stole or had access to the car.
The armed crime squad released CCTV of the shootings and an image of the VW Golf on Monday in an appeal for information from the public.
Police hope members of the public may know where the silver VW Golf is now, or can help identify the drivers of the VW Golf or SUV.
Detective Senior Sergeant Hayward hinted the unmarked police car was already in the area because of the Outlaws clubhouse.
"Obviously there's always times where various work is being done," he said.
"Proactive work, reactive work. All I can say is they were in the area, [but] they didn't have the building under direct observation, so they weren't sure what had occurred."
No further incidents have occurred in the area since September, Detective Senior Sergeant Hayward said.
Anyone with information should contact Crime Stoppers on 1800 333 000 or submit a confidential report online at www.crimestoppersvic.com.au.
Rachel is a breaking news reporter for The Age.
Michael is a reporter for The Age.