The Department of Environment, Land, Water and Planning has escorted the food in while the highway is cut off, mostly due to the threat of falling trees.
"You always run out of something. I haven't been able to run a full menu, [but] no one's gone hungry," Mr Marchi said.
The tiny town has a population of just 200 people, most of whom stayed behind when the fires came through late last year.
About 30 people evacuated, Mr Marchi guessed, and many of them took the chance to return home on Monday when the highway opened from midday until 8pm.
Jennet Young has stacks of boxes filled with donations at Cann River Public Hall, to ensure locals are taken care of.
The 78-year-old has toothbrushes, toothpaste, toiletries, toilet paper, biscuits and canned food "of every description". For the past week, the information and support team at Cann River Public Centre has also held fresh fruit and vegetables, bread, meat and milk.
"We've had a little bit that's been choppered in, but most of it is coming in via the army and those massive big tankers … I don't know what they're called but they're massive," Ms Young said.
"If you met one of them on the road, you'd pull over to the side very quickly."
Ms Young, who has lived in Cann River more than 51 years, has been volunteering seven days a week. She takes requests and will source specific products that trapped locals are seeking, and organises deliveries to people in outlying areas.
"Yes, there's a few irate people around that want cigarettes, alcohol, and want everything done now – which is a little bit impossible to be achieved," she said.
Mr Marchi said he understood why the Princes Highway was closed, but he agreed people were going a little stir crazy.
"They're getting very niggly and frustrated. A lot of people wanted to get out. They felt like they were in a jail."
Before the power came back on, Mr Marchi turned an SES van into a food truck and fed hundreds of people sheltered at a school as the fires came through.
He has been working seven days a week this month, doing 12- to 15-hour days. "It's all a blur now. We've been doing 15-hour days non-stop."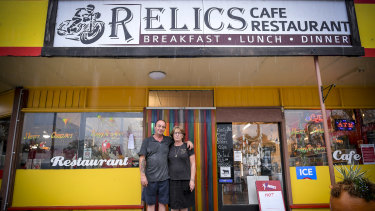 Rachel is a breaking news reporter for The Age.