Democratic hopes that a moderate bloc of Senate Republicans would join their demand for witnesses and testimony at Donald Trump's impeachment trial were temporarily disappointed, if not dashed, as arguments in the first proper day of the trial extended into Tuesday evening.
In six consecutive votes split precisely along party lines, the Senate voted down Democratic proposals to subpoena testimony from three potential witnesses and documents from multiple government agencies.
Democrats called for testimony and documents from the acting White House chief of staff, Mick Mulvaney; Mulvaney's aide Robert Blair; the budget official Michael Duffey; the White House; the state department; the defense department; and the budget office relevant to an alleged scheme by Trump to twist the powers of the presidency to extract personal political favors from Ukraine.
Each of the proposed subpoenas was defeated by a 53-47 vote. Democrats accused Republicans of failing to commit to a fair impeachment trial and of engaging in a "cover-up" of misconduct by the president.
"The president is engaged in this cover-up because he is guilty, and he knows it," said Representative Val Demings of Florida, one of the impeachment prosecutors, referred to as "managers", in the case.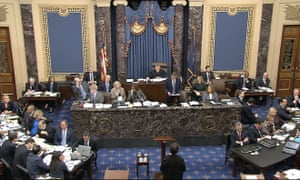 A further opportunity for the senators to demand documents or witnesses was anticipated in the weeks ahead. But Adam Schiff, the lead impeachment manager, urged the senators to issue subpoenas before an allotted period for senators to question the legal teams.
"You should want to see these documents," said Schiff. "You should want to know what these private emails and text messages have to say.
"The American people want a fair trial," Schiff said. "But a great many Americans don't believe that will happen. Let's prove them wrong."
Trump's defense team struck a combative posture, expressing outrage at what they said was unfair treatment of the president and accusing the House of an attack on democracy.
"They're not here to steal one election, they're here to steal two elections," said Pat Cipollone, the White House counsel. "They won't tell you that. They don't have the guts to say it directly. But that's exactly what they're here to do."
The trial was scheduled to continue with late-night sessions starting on Wednesday afternoon and running into the weekend. A long-shot two-thirds majority of senators present would be required to remove Trump from office.
The supreme court's chief justice, John Roberts, gaveled the trial to order shortly after 1pm.
"The Senate will convene as a court of impeachment," Roberts said, proceeding to swear in one senator, James Inhofe of Oklahoma, who missed the group swearing-in last week.
The opposing legal teams, seated in a cramped arrangement at tables stacked with paper at the base of the Senate rostrum, struck an immediate contrast in style and substance.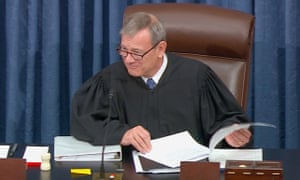 While Trump's team attacked the conduct of the impeachment process in the House and resuscitated a call for more information about the whistleblower whose complaint launched the process, the Democrats appealed to the 100 senators before them.
"They talk about how bad the House is – I don't agree with that at all," the minority leader, Chuck Schumer, told reporters during a break in the trial, referring to Trump's defense team. "They don't make a single argument why there shouldn't be witnesses or documents."
As the hours wore on, certain rhythms and incongruities in the trial emerged. While the House managers used almost all of their allotted debate time, liberally deploying video clips drawn from public hearings last month, Trump's defense team used only a fraction of its time, repeating a blanket defense of the president's conduct and rarely referring to previous testimony in the case.
To debate various proposed subpoenas, Schiff deployed one of the other seven managers to make a scripted case and then, after Trump's team had spoken, rose to deliver impromptu rebuttals.
After the deputy White House counsel Patrick Philbin said the Democratic request for new witnesses amounted to an admission that they were unprepared for trial, Schiff pounced, calling on Trump's former national security adviser and current acting chief of staff to appear.
"We're ready," Schiff said. "The House calls John Bolton. The House calls Mick Mulvaney. Let's get this trial started, shall we.
"We are ready to present our case. We are ready to call witnesses. The question is, will you let us?"
Pounding the lectern, Jay Sekulow, a personal lawyer for Trump and talk-radio host, blazed through a series of conservative talking points and conspiracy theories ranging in focus from the special counsel Robert Mueller to the former attorney general Eric Holder.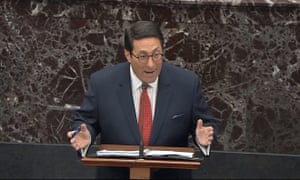 "This isn't a legal defense," tweeted Kate Brannen, editorial director of the Just Security website. "It's the equivalent of impeachment jazz hands."
After Cipollone delivered a terse statement declaring: "The president has done absolutely nothing wrong," Schiff took the lectern to reprise his description of Trump's alleged misconduct and to underscore the gravity of the moment.
"You have all now sworn an oath," Schiff told the senators. "To do impartial justice. That oath binds you. That oath supersedes all else. Nothing matters now but the oath to do impartial justice. And that oath requires a fair trial."
Trump is charged with abuse of power and obstruction of Congress, in connection with his attempts to pressure Ukraine to investigate his political rivals.
In the hours before the trial began, Democrats escalated their criticism, lambasting what they called a "cover-up" and a "rigged process" designed to push key moments of the trial into the "dark of night".
If Democrats are to secure additional witnesses, they will need at least four Republicans to back them. A handful of moderates, including Susan Collins of Maine and Mitt Romney of Utah, have indicated that they could support an effort to call witnesses – but only on the timeline outlined in a proposal advanced by the Senate majority leader, Mitch McConnell.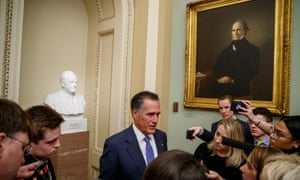 With the trial under way, Democrats continued to press Republicans to refuse McConnell's terms and work with them to reach a bipartisan solution.
"No jury would be asked to operate on McConnell's absurdly compressed schedule," said Nancy Pelosi, the House speaker. "It is obvious that no senator who votes for it is intending to truly weigh the damning evidence of the president's attacks on our constitution."
In their legal brief submitted to the Senate on Sunday, the House managers outlined their case, alleging Trump corruptly sought foreign interference in the 2020 election by pressuring Ukraine to launch investigations into his political opponents while withholding nearly $400m in military aid and dangling a coveted White House meeting with Ukraine's president, Volodymr Zelenskiy.