Schiff's speech electrified his Democratic colleagues, set Twitter alight and attracted lavish praise from progressive pundits.
Loading
"Adam Schiff had an Atticus Finch moment last night," Democratic Senator Ed Markey said, referring to the beloved lawyer from Harper Lee's To Kill a Mockingbird.
"But it wasn't fictional.
"It was in real life and it was with the stakes as high as it could be for our country, for what we stand for, who we are as a nation."
Veteran cable news anchor Laurence O'Donnell said: "Best lawyer I've ever seen in Congress." New York magazine's Jonathan Chait said: "As a feat of political rhetoric I have never seen anything close to what Schiff has done in the impeachment trial."
Loading
But while Schiff has emerged as a Democratic folk hero, there is no evidence that four days of marathon hearings have changed the seemingly preordained outcome of the Senate trial.
It remains entirely possible that not a single Republican senator will vote to convict Trump – let alone the 20 that would be required to remove him from office.
Even more disturbingly for Democrats, as they wrapped up their arguments on Friday (Saturday Australian time) they were growing increasingly pessimistic about their hopes of convincing four Republicans to vote with them to introduce new witnesses and documents into the trial.
That is despite polls showing up to 70 per cent of Americans – including a substantial number of Republican voters – want the trial to include witnesses.
So far, the trial has essentially consisted of a recitation of evidence first exposed during the public hearings of the House of Representatives' impeachment inquiry in November.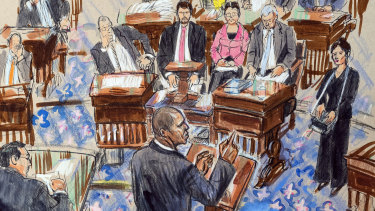 Democrats have unleashed a blizzard of video clips and power-point slides, and much of the evidence has been damning for Trump.
Speaking on Friday Jerry Nadler, the chair of the House Judiciary Committee said Trump was a "dictator" who needed to be reined in by Congress.
"He wants to be all powerful," Nadler said.  "Only his will goes. He is a dictator. This must not stand and that is another reason he must be removed from office."
But, besides Schiff's soaring rhetoric, there have been no dramatic revelations and few explosive made-for-TV moments.
Senators, who are acting as jurors in the trial, are banned from speaking. This eliminates the verbal tussles that usually spice up congressional debate.
The first day of the trial attracted a combined 11 million viewers; on day two this had dropped to around 8.6 million. By contrast, Brett Kavanaugh's Supreme Court nomination hearings in 2018 drew 20.4 million viewers.
It appears Republican senators, who have been forced to sit in silence for up to eight hours a day, have little desire to extend the trial.
"I'm dying, I'm dying," Utah Senator Mitt Romney reportedly told a Senate colleague on Friday.
Asked about whether she would support calling witnesses, Alaska Senator Lisa Murkowski said: "The House made a decision that they didn't want to slow things down by having to go through the courts.
"And yet now they're basically saying you guys gotta go through the courts. We didn't, but we need you to."
That's a bad sign for Democrats who were counting on Murkowski, a moderate, to vote with them on their motion to subpoena witnesses. The trial could well be wrapped up by the end of the week, allowing Trump to claim vindication when he delivers his State of the Union address on February 5.
As Adam Schiff knows, Atticus Finch failed to convince the all-white jury to acquit his black client – despite his rhetorical brilliance and the evidence being in his favour. "People generally see what they look for, and hear what they listen for," the judge in To Kill a Mockingbird said.
Trump's legal team now has up to 24 hours in total to make their defence, and an audience of Republican senators looking for a way to get this trial over with.
Matthew Knott is North America correspondent for The Sydney Morning Herald and The Age.