Other authorities have gone further. As well as thongs and shorts, Maribyrnong City Council has banned slippers, singlets, nightwear, sports apparel, offensive motifs and overly torn clothing.
No shoes means no service. Those who don't follow the rules will be asked to leave. Whether bouncers will be doing the asking is unclear.
The dress code comes under recent amendments to the Citizenship Ceremonies Code, which also requires councils to hold a ceremony on January 26 or be stripped of the right.
Some are questioning their roles as fashion police. Glen Eira City Council has not submitted its dress code to the Department of Home Affairs for review, as required, saying it has not been concerned about people's clothes at past ceremonies.
Long-time City of Port Phillip councillor Dick Gross, known for his colourful dress sense, agreed.
"I've never, ever seen thongs," he said. "Generally, people make an extraordinary effort, it's a proud day. This is the classic issue that doesn't exist."
So what does smart casual mean?
"It's fair to say smart casual is a fairly ambiguous and confusing term," said personal stylist Sally Mackinnon.
"People interpret it the way they want to interpret it. It's thrown around a lot without much explanation."
For men, a suit is not necessary for smart casual. Instead, she suggests a pair of chinos or a nice pair of dark jeans, with a collared shirt, nice shoes and a belt. A blazer or jacket is optional.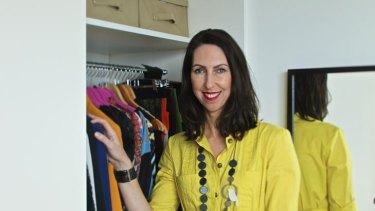 Women could wear tailored trousers or a skirt with a blouse, she said. A cocktail dress or ball gown is overdressing. For shoes, ballet flats or brogues would do rather than heels.
"It's not cocktail, it's not formal, it's not corporate, it is below all those. It's about taking the standard staples and making sure you wear the most polished version," Ms Mackinnon said.
Four members of the Semenets family will get their citizenship together at Brighton Town Hall on Sunday after arriving in September 2014 from Moscow.
Anastasia Semenets, 37, said she was not aware of the new dress code for citizenship ceremonies, but had not considered wearing thongs and board shorts.
"I wasn't aware of any rules, but I discussed this with my husband and I was telling him this is a very important ceremony. It's like going to a wedding, it's very important," she said.
"It's something that only happens once in your life, it's not going to the movies. You can go to the movies any day."
Mrs Semenets said she and her husband decided to become Australian citizens because of their two daughters, aged eight and 12.
The Australian education system was a big draw, she said, and not for the reasons you might expect.
"Kids sing Advance Australia Fair every Monday. It really builds up the feeling that you're Australian," she said. "I called my friend and I said I have a feeling that I'm back in the USSR, in Australia!"
Although Mrs Semenets is glad to become Australian, she isn't shy in offering a few critiques, with downsides including the lack of snow, being "far from everywhere", shopping centres closing early and slow internet.
Despite all that, the family is happy with their new home. "Here, I begin to respect nature, animals and possums," she laughs. "The more we are here, the more we love Australia."
Tom Cowie is a journalist at The Age covering general news.