"They're asking you not only to overturn the results of the last election, but as I've said before, they're asking you to remove President Trump from an election that's occurring in approximately nine months," Cipollone said. "They're asking you to tear up all the ballots across this country on their own initiative."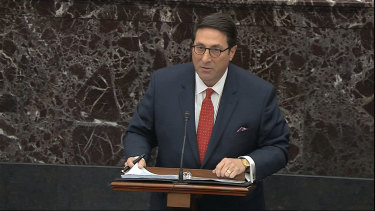 "You'll find that the president did absolutely nothing wrong," Cipollone countered.
From the White House, Trump launched into name-calling, tweeting that his team was making his case "against lyin', cheatin', liddle' Adam "Shifty" Schiff, Cryin' Chuck Schumer, Nervous Nancy Pelosi" and others of "the Radical Left."
Though Trump is the one on trial, the defence team made clear that it intends to place scrutiny on the FBI and to paint the impeachment case as a mere continuation of the investigations that have shadowed the president since before he took office – including one into allegations of Russian election interference on his behalf.
Trump attorney Jay Sekulow suggested Democrats were investigating the president over Ukraine simply because they couldn't bring him down for Russia.
"That – for this," said Sekulow, holding up a copy of special counsel Robert Mueller's report, which he accused Democrats of attempting to "relitigate." That report detailed ties between the 2016 Trump campaign and Russia but did not allege a criminal conspiracy to tip the election.
Trump's team made only a two-hour presentation, reserving the heart of its case for Monday. Acquittal appears likely, given that Republicans hold a 53-47 majority in the Senate, and a two-thirds vote would be required for conviction and removal from office.
Reuters and AP