"The aircraft went down in a remote field off Las Virgenes around 10:00 this morning. Nobody on the ground was hurt."
ESPN is reporting Bryant and his daughter were travelling to a basketball game when the helictopter crashed.
A teammate from Bryant's daughter's basketball team, a parent of the teammate, and the pilot were also killed, NBC News reported.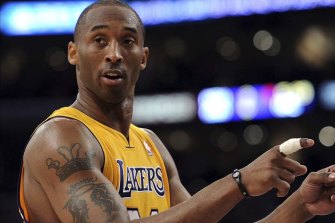 The Federal Aviation Adminisation and National Transportation Safety Board will investigate the cause of the crash.
Aerial footage shows emergency crews working at the scene, with smoke billowing from the crash site.
Bryant was a husband to Vanessa and the father to four daughters, Natalia, 17, Gianna, 13, Bianka, 3, and Capri, 1.
Gianna had inherited her father's love of basketball and the pair was last month photographed together enjoying a Lakers game at the Staples Centre, the team's home base, where large crowds have gathered to lay flowers and pay tribute to one of the greatest to ever play the game.
Bryant retired in 2016 as the NBA's third all-time leading scorer with 33,643 points and was expected to be inducted to the Naismith Basketball Hall of Fame on the first ballot this US summer.
He was surpassed on the all-time at the weekend by another Laker, Lebron James.
His final tweet read: "Continuing to move the game forward @KingJames. Much respect my brother #33644″
Tributes are pouring on social media, including from former teammate Shaquille O'Neal who said he had "no words to express the pain I'm going through".
NBA teams have honoured Bryant as news spread of his death. The Toronto Raptors and San Antonio Spurs started their game by each holding the ball for 24 seconds, accepting intentional shot clock violations, in honour of Bryant who wore No. 24.
The Grammy Awards, which are being hosted in the Staples Centre Monday morning Australian time, opened with a moment of silence.
Fans are commemorating the star with a makeshift memorial outside the venue.
Bryant, who patterned his game after Michael Jordan, entered the NBA straight out of high school in 1996. By his second season, he had earned his first of 18 all-star selections. By his fourth season, he had teamed with Shaquille O'Neal to win the first of three consecutive championships.
Although his partnership with O'Neal didn't last, Bryant went on to greater heights after their 2004 parting. He won two scoring titles in the years that followed, and he famously scored 81 points against the Toronto Raptors in 2006, the second-highest single-game total in NBA history. Bryant's 2008 pairing with Pau Gasol produced two more championships in 2009 and 2010, with Bryant winning Finals MVP honors both times.
A famous competitor known for championing his ruthless "Mamba Mentality," Bryant suffered a career-altering Achilles' injury in 2013. He recovered to play three more seasons, retiring in 2016 after 20 seasons with the Lakers. In the last game of his career, Bryant scored 60 points in perhaps the most memorable career finale in NBA history.
In retirement, Bryant has written children's books and produced animated stories, while also pursuing assorted media and business projects with his Granity Studios. Bryant and his daughter Gianna have occasionally attended Lakers games this season. Just last month, they sat courtside for the Lakers' victory over the Dallas Mavericks and took photographs with rising star Luka Doncic after the game.
Zach is a reporter at The Age. Got a story? Email me at zach.hope@theage.com.au