In a statement, UNSW said the woman "did not attend any classes at the university and stayed on her own in campus accommodation with no close contact before she was admitted to hospital".
Loading
Dr Chant confirmed the woman did not have close contact with anyone but said she had several "very low-level contacts that we are currently tracing".
Three men, aged 53, 43 and 35, are also in isolation in Westmead Hospital after returning from China. They are in stable conditions. Another man from China remains in quarantine in Melbourne after he was the first to test positive for the virus in Australia.
Flights between Wuhan and Sydney have been suspended by China Eastern Airlines until late March. Other passengers who were on flight MU749 with the woman will be routinely contacted by authorities.
The Prime Minister's Office released a statement on Monday saying Scott Morrison had convened a National Security Committee meeting to discuss the Australian and international response to coronavirus.
On Monday, China's government said the death toll from coronavirus had risen to 80, with more than 2700 confirmed cases of infection. Cases of coronavirus have been reported in Hong Kong, Macau, Thailand, Taiwan, Japan, South Korea, USA, Vietnam, Singapore, Malaysia, Nepal, France and Canada.
NSW Health Minister Brad Hazzard said it was important to emphasise that there is no evidence of infection from person-to-person contact in Australia, which has happened overseas.
He said it's "clearly concerning" that further cases are under investigation in NSW, but he said each will remain in isolation while testing is done.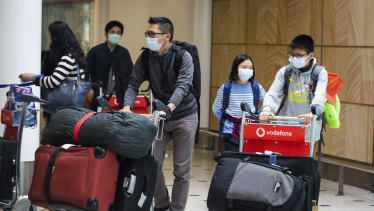 Dr Chant said there are not yet any preliminary results which indicate the other people are infected. All of them, who are a range of ages, had visited China.
Authorities in Australia currently believe the virus can only spread once a person begins showing symptoms. A daily press conference will be held in NSW to address the community as new information emerges.
Advice for school children and people with symptoms
Dr Chant said school-aged children who have recently returned from Hubei province, of which Wuhan is the capital, should be tested if they have coronavirus symptoms including a fever, coughing, a sore throat or a headache.
Children who have been in close contact with a confirmed case of coronavirus have been advised to stay away from school for 14 days. Dr Chant said it is also generally recommended that children with other sicknesses including the flu should stay home until they are well.
Mr Hazzard said anyone who begins showing coronavirus symptoms should isolate themselves and wear a surgical mask if they have one available. He said if they do have symptoms, they should not attend school or university.
Asked if he would be comfortable sending his children to school this week, Mr Hazzard responded, "Absolutely".
"Children, and university students generally, would be quite safe in attending school and university," Mr Hazzard said.
International university students stuck in limbo
The peak Australia-China youth organisation is providing advice to at least 100 international university students who are caught in the indefinite lockdown in Wuhan.
Michael Hester from the Australia-China Youth Association (ACYA) said the group was in regular contact with the students who are "very much in the dark at the moment".
Loading
"We've got a support group for students who are trying to get their heads around their visa and study requirements because they have to be back in Australia by the start of the semester, which for many isn't possible at the moment," said Mr Hester.
ACYA has about 6000 members in Australia and China.
Mr Hester said he was concerned Chinese students would be viewed as "dirty" or treated differently on Australian campuses.
"So we've been doing a lot of promotion within our Wechat groups that it's a medical issue and shouldn't be put on international students," he said.
With Michael Fowler
Georgina Mitchell is a court reporter for The Sydney Morning Herald.