While those in Mildura deal with dust on a regular basis, now it is Melbourne's turn to figure out how to get rid of it.
Some spent the weekend cleaning pools, washing cars and hosing things down with varying degrees of success. At Yarra Trams, cleaning crews have had a more difficult job than usual.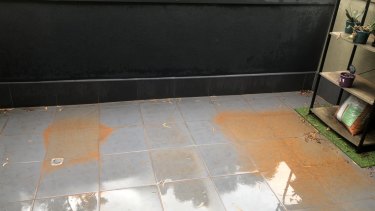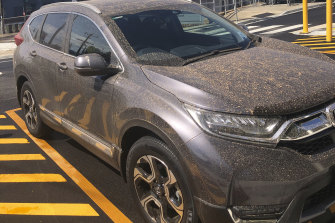 Others are preferring to leave the wash-up job to nature. But those waiting for another storm strong enough to undo the mess of the last one could be waiting a while.
Melbourne is not expected to get any rain until at least the end of the week. Between five and 15 millimetres is expected to fall on Saturday with a chance of a thunderstorm.
Whether that's enough to do the job is questionable. Cleaning companies across Melbourne are reporting an increase in business as customers bring in the professionals to pressure wash the muck away.
"I've had a few customers call up who tried to use their garden hose and it's not taking it away," said Adrian Macintyre from Melbourne Pressure Cleaning.
"It's not overly stubborn but for your typical garden hose it probably is."
Luke Moylan, owner of cleaning company Cool Hand Luke's, said the best thing would have been to get rid of the dirt early, before it had a chance to settle.
"When you go from wet to hot, it can go pretty sticky," he said. "Then when it goes hard it can bond with the surface."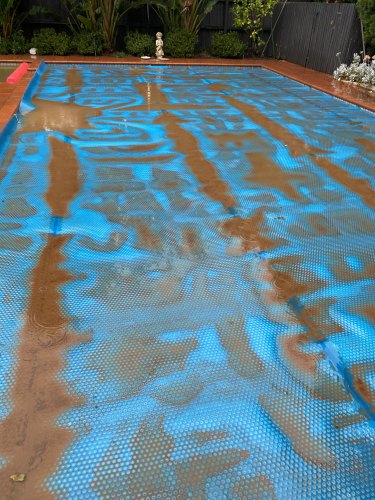 Customer inquiries included the exclusive Commonwealth Golf Club, he said, which needed help cleaning up an outdoor area that had been turned red.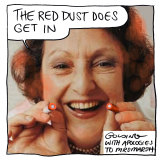 "It has just the most incredible colour," Mr Moylan said of the dust. "It was very textured, you could tell it wasn't from our area."
The dust is topsoil from drought-hit farms in the Mallee region that has been blown into the air by strong winds.
Naleen Bandara from Diamond Shine Pressure Cleaning said he had fielded plenty of calls as well.
"It's very hard to remove," he said. "You have to get the sand out before washing. A hose isn't going to help much, the dust sticks. It will take some time to get rid of it."
For those wanting to do it themselves, pressure washers can also be hired or purchased from hardware stores. However be wary of choosing a setting: the stream of water can be powerful enough to strip paint and chip wood.
Deck owners should opt for freshwater rather than household chemicals if they can't afford specialty cleaning products, Brian Burgess from Melbourne's DeckSeal said.
"[Chemicals] might discolour the coating," Mr Burgess said.
He recommends using a low-pressure washer or a garden hose to saturate the deck.
"Try doing two to three boards the whole length of area at one time and continue this procedure for the entire area. This may need to be done a few times," he said.
"Alternatively, you could use a soft bristle broom scrub, lightly massage the wet area and then wash off again."
with Josh Martin
Tom Cowie is a journalist at The Age covering general news.