Foreign Affairs Minister Marise Payne confirmed 600 Australians in Hubei had registered with the Australian embassy. It remains unclear if all will be evacuated or willing to go to Christmas Island. The New Zealand government has also asked to be part of the operation to evacuate its citizens.
Prime Minister Scott Morrison said infants and the elderly were the top priority for the assisted departures.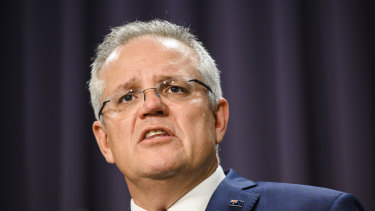 "We have taken a decision this morning to prepare a plan for an operation to provide some assisted departures for isolated and vulnerable Australians in Wuhan and the Hubei province," Mr Morrison said.
But he warned there was no guarantee the operation would succeed and there would only be limited opportunities to pull Australians out of the lockdown zone.
"This will be done subject obviously to working closely and with the authority and approval of the Chinese government," he said.
"I also want to stress very clearly that we may not be in a position if we're able to do this on one occasion to do it on another occasion.
"There are many complications and many issues that we're going to have to overcome."
A dozen cities in Hubei have now been sealed off, including Wuhan, a city of 11 million people, twice the size of Sydney or Melbourne. There is no transport in or out, streets are deserted and hospitals are overflowing with patients seeking treatment while residents are stuck inside their apartments.
Mr Morrison said the focus would be on evacuating Australians who do not have established support infrastructure in Hubei and have been shorter-term travellers to that area.
Loading
Australian consular officials are on their way to the lockdown zone from Shanghai to assist with the departure. The evacuation is broader than that being undertaken by the United States.
"I note that the United States has been able to provide assisted departures already, but I stress that has only been for their consular staff and families," Mr Morrison said.
Former Hubei resident Cheng Chen, who now leads the Hubei Association of South Australia, said the Christmas Island quarantine would deter Australian citizens trapped in Wuhan from seeking help.
"I don't think Christmas Island is a good idea. I think most will be very confused," he said.
Loading
"It's going to be very hard for them to return to normal life. I doubt many people will get on the flight but it depends on how desperate they are."
The Department of Foreign Affairs upgraded its travel advice for all of China on Wednesday morning, urging Australians to reconsider their need to travel to China. The federal government has also released 1 million masks from the national stockpile to deliver to pharmacists.
Australia's Chief Medical Officer Brendan Murphy said that, while most cases resulted in mild flu-like symptoms, up to 20 per cent with the condition do have a severe case of the disease. Most of the 132 deaths have been in elderly patients or those with other conditions.
"The Australian community needs to be reassured that we are well prepared," Dr Murphy said.
Dr Murphy said the government was investigating reports of two cases in Japan and Germany. He said there was a suggestion that some people may have transmitted the virus just before they became symptomatic, which is contrary to all of the previous expert advice.
"We're convening an urgent meeting of all of our expert groups this afternoon to reconsider whether our medical advice should be changed and to look at the veracity of those cases," he said.
Eryk Bagshaw is an economics correspondent for The Sydney Morning Herald and The Age, based at Parliament House in Canberra
Dana is health and industrial relations reporter for The Sydney Morning Herald and The Age.
Anthony is foreign affairs and national security correspondent for The Sydney Morning Herald and The Age.