Ventilation stacks will be built at Rozelle, where the construction to the controversial interchange is under way, and Cammeray on the other side of the harbour.
The Rozelle ventilation stack is one of three slated for the area, while the 30-metre high stack in Cammeray is planned near Ernest Street, according to new mapping of the project.
Cammeray will be most affected, with parts of the golf course to be acquired by the state government to widen the Warringah Freeway.
About 20 homes will be acquired as part of the Warringah upgrade, while four will be acquired during the tunnel construction.
Construction, which will most likely cost more than $14 billion (including the Beaches Link) is expected to affect public transport and temporarily increase travel times through northern Sydney.
Birchgrove Wharf is also slated to be closed for about two years, according to the EIS.
Partial or complete closures of the Warringah Freeway were outlined in the report, which indicated most would occur after 10pm, or during off-peak times.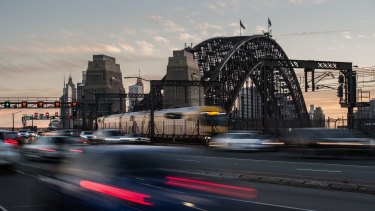 Harbour Tunnel and Beaches Link Program director Doug Parris said disruption was "inevitable", given the upgrades to Australia's busiest freeway, but said years of construction would result in more efficient transport and a more resilient road network.
"The reason it may take so long is because we're doing it sensitively … it's a balance of how we get in there and do that in a respectful manner," he said.
Loading
The seven-kilometre Beaches Link will extend from the Warringah Freeway to Balgowlah and Seaforth in the city's north.
The tunnel itself will be built in a trench on the harbour floor, where large concrete tubes will be lowered from barges above.
The government decided against an underground tunnel due to the poor geology at the harbour crossing, as well as the steep gradient near North Sydney.
Material dredged from the harbour will either be taken offshore to a deep water disposal ground or, if it is more hazardous, will be treated locally before it's disposed in landfill.
Yurulbin Park, Anzac Park and St Leonards Park will all be used for temporary construction sites.
While some of the Cammeray golf course will be acquired, the government said it would be "reconfigured" to remain operational.
The EIS is available for public exhibition and feedback on the NSW planning portal until March 12.
Tom Rabe is Transport Reporter with The Sydney Morning Herald.