RFS Commissioner Shane Fitzsimmons knelt by the families and friends of each of the three men as he awarded them the Commendation for Service medal, while firefighters from the Cooma Monaro area, who were first on the scene when the plane crashed, presented flowers.
For the families, the memorial shows a nation is mourning alongside them.
Ms Berejiklian said she was "heartbroken" for the trio's families.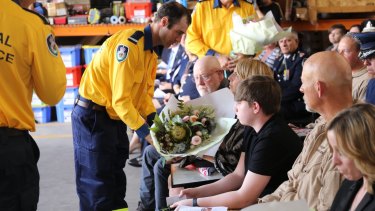 "It's appropriate today that we hold that memorial in honour of those three brave men who left their own nations, came to fight in NSW to save the lives and property of others," she said.
"The tragic accident, the loss of their lives demonstrated the risks that all of our firefighters put themselves in front of every single day."
In a post on social media, Deputy Prime Minister Michael McCormack said the service had been "very touching".
"Our nation will forever owe you an enormous debt of gratitude," he wrote.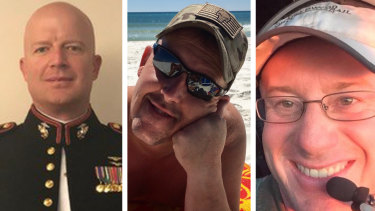 The service comes one day after the families of the men visited the crash site.
Earlier this week, chief executive of Coulson Aviation, the company that owned the aircraft that crashed, described the accident scene as "horrific". 
Loading
"To see our aircraft on the ground, knowing we've had such loss of life was devastating," Wayne Coulson said on Monday. "It's just a difficult time for everyone."
Footage of the crash emerged on Wednesday, which shows the C-130 Hercules dropping pink retardant on a bushfire at Peak View last Thursday before the tanker disappears into thick smoke.
An explosion is then heard as the vision shows a fireball burst up from the ground.
A NSW Police spokesman said they are aware of the video "and it will form part of the coronial brief of evidence".
The Australian Transport Safety Bureau began downloading data from the plane's cockpit voice recorder on Saturday. The results of the recorder are expected to be released in the coming days.
The firefighters will also be commemorated in a state memorial service next month, along with the three Australian firefighters who have also died this fire season.
With AAP
Laura is a journalist for The Sydney Morning Herald.