It comes as Lunar New Year celebrations in Melbourne's east have been cancelled amid the outbreak.
The 2020 Box Hill Chinese New Year Festival, which was expected to draw tens of thousands of people on Saturday, has been postponed by organisers who cited "cultural and commercial reasons and out of respect for the difficulties currently being experienced by many people".
Diners at a popular Chinese restaurant in Glen Waverley may have also been exposed to the coronavirus, with Victoria's second case being confirmed on Wednesday.
The patient, a man in his 60s who had travelled to Wuhan in China, is now isolated and recovering at home.
Whitehorse mayor Sharon Ellis said she was shocked by the decision to cancel one of Melbourne's biggest annual Lunar New Year events and was hoping to have further discussions with organisers the Asian Business Association of Whitehorse (ABAW).
"I was taken aback because we weren't foreseeing this," Cr Ellis said. "But ultimately it's an ABAW event, so it's their call on whether or not it is cancelled."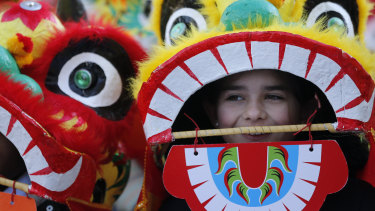 When asked whether she thought is was an overly cautious move, Cr Ellis said she understood the organisers' reasons for cancelling it.
"Sometimes people have to lean on the side of caution," Cr Ellis said. "If there are concerns, it can take the shine off the event."
The celebrations are expected to be rescheduled at a later date.
Asian Business Association of Whitehorse president Tom Zheng said in a statement: "This decision is acknowledged by the City of Whitehorse, who will continue to work with ABAW to reschedule the festival."
Earlier this month, Mr Zheng announced he wanted to use the event to raise money to support bushfire victims.
It remains unclear whether Lunar New Year celebrations in Carnegie, in Melbourne's south-east, will go ahead this weekend.
As the coronavirus death toll rises to 170 people, the World Health Organisation has voiced "grave concern" about the person-to-person spread of coronavirus in three other countries ahead of an emergency committee meeting to decide whether it now constitutes a global emergency.
Victoria's chief health officer Dr Brett Sutton said the man in Glen Waverley became sick on January 23, two days after returning from China, and had remained isolated except for attending dinner with his family on Australia Day.
Loading
The man ate at the House of Delight restaurant in Glen Waverley with five family members between 5.30pm and 7pm.
Dr Sutton urged anyone who was at the restaurant during this time to be aware of symptoms.
"That restaurant is OK to go to now, people don't need to avoid the area or indeed anywhere else," he said.
As of early Thursday morning, the restaurant appeared to have closed with a sign on its door suggesting it would not open until until February 9.
Loading
The news of the fresh cases came as federal health authorities asked all people who had had any contact with a confirmed case of coronavirus to isolate themselves in their homes for 14 days.
Meanwhile, NSW Health have confirmed the number of people in that state under investigation for the virus has jumped from six to 16.
Dr Sutton said the results of tests on 14 more Victorians were still pending while 61 people who were initially suspected of having the virus had come back with negative tests.
Melissa Cunningham is The Age's health reporter.