The three Galaxy S20 phones have taken their turn running Geekbench 5.1. The models headed to the South Korean and US markets, specifically, which are powered by a Qualcomm Snapdragon 865 rather than a home-grown Samsung chipset (it seems that only European models will use Exynos 9830).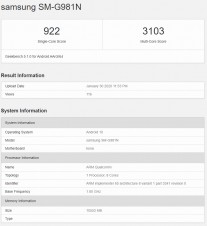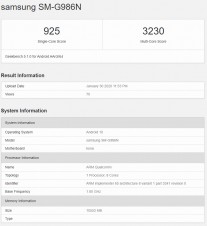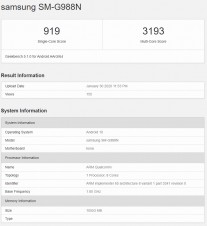 Korean versions: Samsung Galaxy S20 Galaxy S20+ Galaxy S20 Ultra
The trio packs 12GB of RAM (the value reported by the benchmark is lower as a part of RAM is reserved for the GPU). The benchmark score is essentially the same for all three phones and matches up with other upcoming Snapdragon 865 phones that have gone through the test. Theres variation, but thats to be expected with pre-release software and hardware.
The three model numbers are SM-G981 (Galaxy S20), SM-G986 (Galaxy S20+) and SM-G988 (Galaxy S20 Ultra). An N denotes a South Korean model while U stands for US model. We couldnt find results from F models, however, those are usually the ones that land in Europe.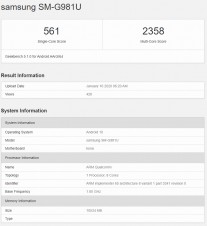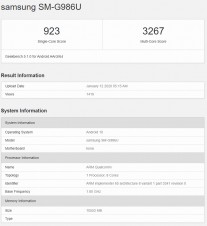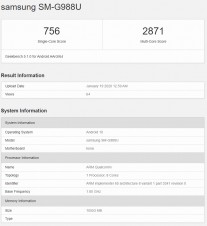 US versions: Samsung Galaxy S20 Galaxy S20+ Galaxy S20 Ultra
Another thing to note about the model numbers they are 1 higher than usual, e.g. the Galaxy S10e is G970 and the S10+ is G975. This means that these are probably the 5G versions of the phones, the LTE models are G980 and G985. Its not clear if the S20 Ultra will get a LTE version, but it looks like no. The LTE models are aimed at markets where carriers are yet to roll out their 5G networks.