The caller told the woman that she would need to provide her details to a male courier in order to retrieve the funds. A man arrived at her home a short time later and allegedly took the woman's details from her in an envelope.
By the following day more than $11,000 in fraudulent transactions had been made from the woman's account and the incident was reported to police.
An investigation was launched and police have now released CCTV images of two men they believe may be able to assist with their investigation.
Victims of the alleged fraud have reported large financial losses between December and January, with similar reports appearing in suburbs including Castle Hill, Penshurst, Rushcutters Bay, Allawah and Sans Souci.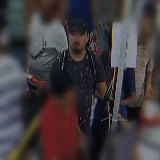 Reports suggest the scam begins with a phone call to the alleged victim's home.
Victims have said the caller is usually someone speaking with a foreign accent, who purports to be from a bank and advises that fraudulent transactions have been made on the victim's credit cards.
The victim is then encouraged to provide their personal information on the phone, or to physically provide identification documents to a courier, who arrives at their home address shortly after.
In another incident an 86-year-old man from Castle Hill gave his credit card details to a female caller claiming to be from a bank on January 3.
Within a day almost $5000 in fraudulent transactions had allegedly been made.
"The community should be wary of any requests for personal financial information or payments over the phone," said Financial Crimes Squad Commander Detective Superintendent Linda Howlett.
"As our detectives continue to investigate these incidents, we would encourage everyone to remain vigilant, and to share these warnings with their parents and grandparents who may not be aware of this scam."
Detectives have made a public appeal to speak to two men described as being of Indian sub-continental appearance, aged in their early to mid-20s, with black hair and black facial hair.
In images of the men released by police, one is wearing a blue t-shirt with a red pattern, blue jeans and black sneakers with white soles. He is also carrying a black backpack and wearing black headphones.
The second man is wearing a black shirt with a pattern, a white backpack and a black cap.
Lucy Cormack is a crime reporter with The Sydney Morning Herald.