An emergency warning has been issued for a fire about 20km south of Ballarat.
Residents in Ross Creek, Scarsdale and Smythesdale have been told to leave now, as an out-of-control fire burns at Smythesdale.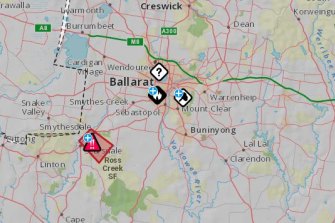 The fire is travelling from Bandy's Road and has crossed Brown's Road in a southerly direction towards Carey's Road, Brown's Scarsdale Road and Gorman Court.
An warning message from VicEmergency, issued at 2.20pm, reads: "Leaving now is the safest option, before conditions become too dangerous."
"Emergency services may not be able to help you if you decide to stay."