The removal of rail sleepers from the former Carlingford line, along which a part of the new tram will run, has allowed major construction of the light rail to ramp up.
Church Street between Macquarie and Market streets in Parramatta's CBD will also be closed to traffic from Saturday to allow for construction.
Liberal Member for Parramatta, Geoff Lee, said disruption from construction on the "eat street" dining strip along Church Street was a "big concern" but the project team had been working closely with local businesses.
"Make no mistake, it's not like the Sydney CBD light rail," he said. "We've learned a lot of valuable lessons in terms of scheduling the works."
Mr Lee said the line would be built along roads spanning three blocks of Parramatta's CBD, in contrast to a 3-kilometre stretch of the centre of Sydney for the new line there.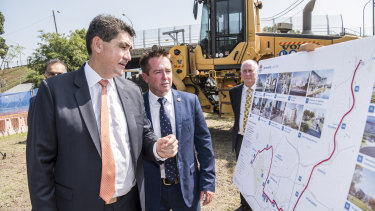 To reduce disruption, construction will pause along "Eat Street" from November 1 to January 31 each year to help retailers during the busy holiday trading period.
But Labor leader Jodi McKay said she had no confidence the government would protect businesses on "Eat Street" after the debacle from construction of the light rail line in Sydney's CBD.
The 12-kilometre line from Westmead to Carlingford is supposed to be part of a two-stage project extending to Olympic Park at Homebush. The final business case for the second stage has been in the government's hands for at least the last six months.
But the government said late last year it was considering operating trackless trams on what had been slated to be the second stage, instead of laying a new rail line.
Ms McKay called on the the government to honour its commitment to extend the light rail line for nine kilometres from Camelia to Olympic Park.
"Thousands of units are going in. People have bought in Melrose Park and Wentworth Point on the promise of an integrated light rail network," she said.
The Sydney Business Chamber also said the start of stage one should not be used as a distraction from the need to extend the line to Olympic Park.
"It would be a tremendous shame to risk stage one becoming a white elephant by not connecting it to the growing communities springing up along the shores of the Parramatta River," the chamber's executive director, David Borger, said.
A leaked government document in 2016 estimated the cost of the entire line, which included the second stage, at more than $3.5 billion.
Matt O'Sullivan is City Editor at The Sydney Morning Herald.