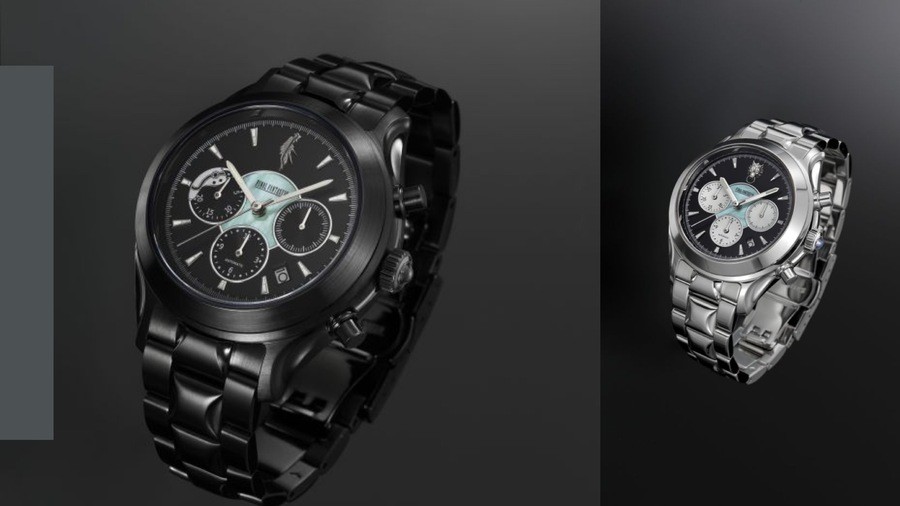 With the game finally launching on a Nintendo system last year, and with protagonist Cloud being a playable character in Super Smash Bros. Ultimate, Final Fantasy VII has never been more popular with Nintendo fans. Perhaps you'd like to celebrate that fact with one of these lovely looking watches? Perhaps you'd also like to consider remortgaging your house?
Square Enix has revealed two watches for sale – the silver one is called the Cloud Edition, while the black one is the Sephiroth Edition – and a waiting list for both has appeared on the company's official store. You can check them out in the images and official description below.
Square Enix is very proud to present this incredible chronograph timepiece with an automatic movement manufactured by Seiko Instruments of Japan and an all-black coating including a Black Materia inspired onyx crown to achieve a remarkable look truly inspired by Sephiroth.
In collaboration with K-uno's artisans, amazing handcrafted detail was put into every piece that will make any FINAL FANTASY VII fan stunned! From the exposed mechanics of the all-glass back panel to the FINAL FANTASY VII logo embossed rotor, with 3D One-Winged Angel emblem and finishing with a Mako inspired mother-of-pearl central disk.

This limited edition Chronograph will be made in Japan, with a unique North American serial number and up to 77 pieces made per region. This spectacular piece includes a special case and will be the centerpiece of anyone's collection for years to come!
So, how much should you expect to hand over for one of these? A whopping $2,500. Wowzers. You can go ahead and check them out for yourself here if you're interested.
If our maths is correct, you can buy 156 copies of the game from the Switch eShop for that price. Why are we wasting our time working out things like this? We've no idea.