He said fires in the east continued to prove challenging.
"With regard to fire and what's going on at the moment, there's still 10 going fires we have here in Victoria.
Loading
"At the moment we have an emergency warning in place for the fire at Cape Conran. That fire has been moving, we've had some significant fire activity this afternoon, moving in a north westerly direction.
"Adjoining that emergency warning is a watch and act for communities further west towards Marlo. Up in the Bendoc area we've also got another watch and act and that particular fire has been active for quite some time now. It's moved between emergency warning and watch and act over a number of days."
Bureau of Meteorology senior forecaster Peter Otto said the west couldn't be more different than the east when it came to the current weather.
"In the west and southern parts of state we are expecting rain to continue over the next few hours, some of that may be heavy," Mr Otto said.
"While we've seen terrific rain over western Victoria … there is the risk of some isolated falls that may be heavy and potentially dangerous, so we do have a severe weather warning out for areas stretching from the Wimmera region down to the Melbourne metropolitan area.
"There is the potential for heavy falls that could endanger lies."
An emergency warning was issued for a severe thunderstorm for the area east of Seymour, including Yea, Alexandra and Yarck after 4pm.
Residents in the area were urged to move indoors to safety.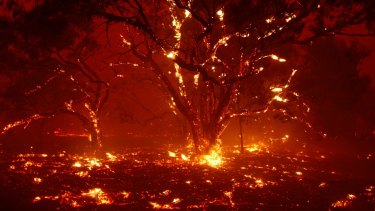 Mr Otto said the rainfall would do little to aid firefighters in the east.
"Further to the east it's drier. Fire conditions for the bigger fires in the eastern part of the state will be challenging today," he said.
"Winds could get erratic later on today as thunderstorms develop in the eastern parts of the state and sea breezes move towards the fires, so firefighters will find conditions challenging in the east.
Loading
"Unfortunately the humidity and rainfall we are seeing over western Victoria won't reach the east."
State Emergency Service chief officer operations Tim Wiebusch they had received over 700 requests for assistance in the past 24 hours.
He urged vigilance as wild conditions were forecast to continue.
"There is the risk of fallen trees, there's debris coming across roads and with the heavy rainfall we could even see flash flooding," Mr Wiebusch said.
"People need to secure loose objects around homes, make sure they're not driving through flash flooding and if they are camping, make sure it's not around trees."
Tate Papworth covers breaking news for The Age.