Evacuees have been told that temperature checks will be conducted at check points before they reach the airport and that anyone with a reading over 37.3 degrees celsius will not be allowed to board the flight and will be asked to seek medical assistance in Wuhan.
Loading
"There will be a number of check points en route [to the airport]," the email states.
"You should expect screening, an identity check will be carried out approximately three kilometres from the airport."
All passengers have been told that they will need to make their own way to the airport and wear supplied facemasks during the flight.
"Should passengers cough or sneeze during the flight, please cough or sneeze into your hands and use hand sanitiser afterwards," the email said.
More than 150 Australians had registered with the Department of Foreign Affairs by Friday to be evacuated.
The flight will leave Wuhan at 2.30am on Monday.
Unaccompanied minors will not be allowed to board the flight.
Nearly 11,400 cases of coronavirus have been confirmed globally, of which 11,221 are on mainland China.
The email confirms that all passengers on the flight will be transferred to Christmas Island for 14 days.
"Travel arrangements to your final destination in Australia will be arranged with you when you are on Christmas Island," the email states.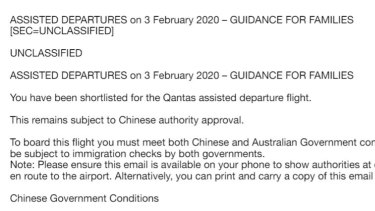 "There will be medical facilities and medical professionals on Christmas Island."
Foreign Minister Marise Payne said that the government is still in discussions with Qantas on how the evacuees will be taken to Christmas Island, where the runway is too small to accommodate the largest Qantas plane, a Boeing 747, with a full passenger load.
"I think it's great the government has reached out to have a proper plan, it's important for the safety for everyone," Sydney physiotherapist Bon Lee said.
"But Christmas Island for 14 days is a long time."
Education reporter at The Sydney Morning Herald