Lakers coach Frank Vogel said earlier Friday that he and his assistant coaches will wear Bryant's signature Nike sneakers.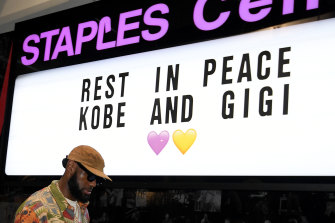 LeBron James paid tribute to Bryant with a couple of images posted to his Instagram account. The second image shows his new tattoo honoring Kobe.
Friday afternoon, Staples Center and LA Live president Lee Zeidman posted a tweet asking fans who were planning to congregate at the adjacent plaza to remember Kobe Bryant before and during the Lakers' home game against the Trail Blazers to watch from their homes.
Despite Zeidman's plea, hundreds of people had gathered and continued to bring flowers and other tokens of their affection, honouring Bryant and the eight others who died in Sunday's helicopter crash in Calabasas.
Loading
The Lakers must know their fans, because they brought out fresh white banners of Bryant for visitors to sign on Friday afternoon.
Portland Trail Blazers power forward Carmelo Anthony will not play in the game "because of his continued grieving and emotions over the loss of Kobe Bryant on Sunday," Shams Charania of Stadium reported.
Anthony, 35, was close friends with Bryant, who died Sunday along with his 13-year-old daughter, Gianna, and seven others in a helicopter crash in Calabasas, California.
Anthony posted a note on Instagram on Tuesday in which he said Bryant told him that he planned to attend Friday's game.
Trail Blazers guard Damian Lillard had no issue with Anthony's decision to miss Friday's game.
"I respect (Anthony's decision to sit out). I know him and Kobe had a great relationship," Lillard told USA Today Sports. "It's something he was not ready to face and deal with. We all respect his decision."
Emotions are expected to be raw on Friday for the Lakers, who haven't played since their 108-91 loss to Philadelphia on Saturday. Los Angeles was scheduled to face the Los Angeles Clippers on Tuesday, but the NBA granted the Lakers' request to postpone the game as the club grieved.
Los Angeles Times with Reuters