Mr Allan said the fires are unlikely to be contained on Saturday, as parts of the state experience temperatures in the mid-40s.
"Firefighters are doing their best to slow the spread of the fires, it's still very dangerous and volatile," he said.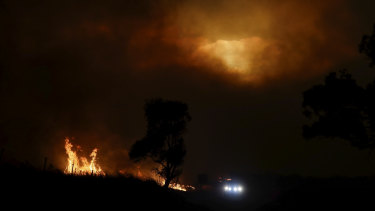 The Clear Range (Snowy Monaro LGA) fire was elevated to emergency earlier on Saturday as ember attacks and spot fires hit Michelago and Colinton in the Monaro region of NSW.
It was created by a number of spot fires originating from the Orroral Valley fire burning south-east of Canberra.
The Creewah Road fire at Glen Allen in the Snowy Monaro was also elevated to emergency warning level on Saturday. At about 1pm it was burning out of control, having already covered 6773 hectares.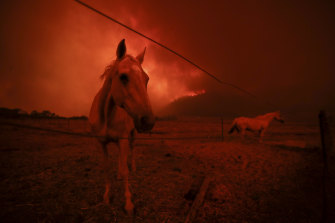 Mr Allan said conditions had deteriorated during the afternoon, placing those in Michelago, Colinton and Bredbo at risk. He advised anyone in those areas to "seek shelter" as it was "too late to leave".
Residents in Michelago should head north towards Canberra, while anyone in Colinton should head south towards Cooma, he said, adding that the Monaro Highway was closed.
Homes are also under threat near Tantawangalo, south of Bemboka.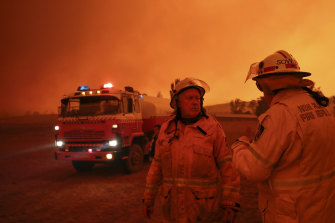 Firefighters and aircraft are working to slow the spread of the fires, while the RFS has warned severe fire danger conditions will cause fire to spread quickly and blow embers, on a day when temperatures in some parts of the state are expected to hit 45 degrees.
Those in the areas of Bredbo, Billingra, Jerangle, Anembo, Williamsdale, Bumbalong and The Angle are advised to be ready to take action, should fire hit.
Snowy Monaro Regional Council mayor Peter Beer said it was shocking to see the mountain region under threat.
"Red skies, black skies, soot going everywhere. It's just not the mountain atmosphere we have come to know," he said.
"We haven't had fires as consistent and up and down … nor have we had the amount of smoke, nor the [loss] of tourists. We are a tourist region and all our businesses have suffered along the highway. It's very similar to the coast."
The Clear Range fire originated from the Orroral Valley fire, which was most likely caused by an army MRH-90 helicopter that was in the area supporting bushfire operations this week.
Burning south-east of Canberra, the Orroral Valley fire was out of control on Friday and at emergency warning level as it approached Apollo Road, Boboyan Road, north of the Glendale depot and Top Naas Road, south of the Boboyan Road intersection.
It has since been downgraded to watch and act, and has burnt through more than 28,000 hectares.
The fire is presenting the worst bushfire conditions Canberra has experienced since the horror 2003 fires in which four people died and hundreds of homes were lost. A state of emergency has been declared for the ACT and is likely to remain in place until Monday.
On Saturday ACT Chief Minister Andrew Barr told Nine News that Saturday presented the greatest concern, however, conditions were still expected to be hot on Sunday.
"We are expecting some storms that could lead to quite unpredictable weather, wind changes," he said.
Heatwave conditions are expected to peak in NSW on Saturday, while thunderstorms – which may ignite new blazes – are also possible in parts of the south coast by Sunday morning.
Severe fire danger ratings and total fire bans are in place for the Illawarra and Shoalhaven, Far South Coast, Monaro Alpine, Southern Ranges, Southern Slopes and the ACT.
More to come
Lucy Cormack is a crime reporter with The Sydney Morning Herald.
Education reporter at The Sydney Morning Herald
Alex Ellinghausen is The Sydney Morning Herald and The Age Canberra bureau photographer
Most Viewed in Environment
Loading