"The circumstances are being assessed and the incident has been declared as terrorist-related," police tweeted.
"We believe there are two injured victims. We await updates on their conditions. The scene has been fully contained."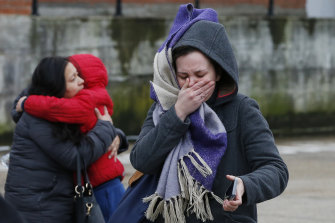 Student Gulled Bulhan said the shooting happened in front of a pharmacy on Streatham High Road.
"I was crossing the road when I saw a man with a machete and silver canisters on his chest being chased by what I assume was an undercover police officer as they were in civilian clothing," the 19-year-old told the PA news agency.
"The man was then shot. I think I heard three gun shots but I can't quite remember."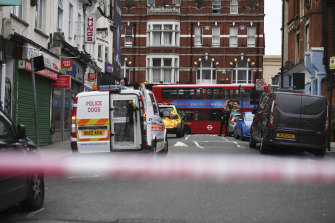 Karker Tahir, who was working nearby, told Sky News that the man was shot three times. Police had told people in the area to leave because the man had a bomb in his bag, Tahir said.
Prime Minister Boris Johnson was briefed on the incident on Sunday afternoon.
"Thank you to all emergency services responding to the incident … which the police have now declared as terrorism-related," he said. "My thoughts are with the injured and all those affected."
Loading
"Terrorist seek to divide us and to destroy our way of life [but] here in London we will never let them succeed," the city's mayor, Sadiq Khan, said in a statement.
The UK's terror alert level remains at 'substantial', which means an attack is likely.
Confirmation of a terrorist motive would make this incident the third terror attack in the United Kingdom in two months.
British police shot a man dead on London Bridge following a stabbing rampage that killed two people and wounded three others in late November. The attacker, 28-year-old Usman Khan, had been previously convicted of terrorism offences and released from prison in 2018.
Khan was free on parole, with an electronic tracking device on his ankle, when he entered a conference focused on the rehabilitation of violent offenders and terrorists. Khan slashed at his victims with knives and wore a fake suicide vest. He had been previously convicted of conspiring to bomb London landmarks.
In early January, two inmates wearing fake suicide belts attacked and seriously wounded a guard at the Whitemoor maximum security prison in Cambridgeshire.
In a June 2017 attack, three Islamic State sympathisers were shot and killed after ramming pedestrians with a van near London Bridge and stabbing eight bystanders to death in nearby Borough Market. Another 48 people were wounded.
In March 2017, British citizen Khalid Masood was shot dead after ploughing his car into pedestrians on Westminster Bridge and then fatally stabbing a police officer.
– with agencies
Bevan Shields is the Europe correspondent for The Sydney Morning Herald and The Age.