''Having seen what I have seen and heard what I have heard in terms of the summary … I still feel the requirement to issue that warning,'' Judge Tinney said.
After the judge's warning, Mr Halphen asked for a few minutes to talk with his client. When the hearing resumed, Mr Halphen asked that the appeal be struck out, and Dominic Walker went back into custody. He must serve another eight months before he is released.
Sam Walker, 26, was jailed for six months and will continue on Tuesday his appeal against the length of his sentence.
Fitt, 28, was jailed for four months and has another three weeks to serve, having chosen not to appeal.
The Walkers are the sons of Tim Walker, QC, and grandsons of pre-eminent scientist and 2000 Australian of the year Sir Gustav Nossal. Tim Walker was not in court on Monday, but Sam and Dominc's mother and a large group of supporters heard Dominic was remorseful for his crimes and had vomited the first time he saw the video.
Loading
''His sense of self and who he is is shattered,'' Mr Halphen said.
But Judge Tinney told the lawyer his client's conduct was ''almost extraordinary''.
''He had a weapon and he was using it – his fist,'' the judge said.
''It's high-level offending as far as I'm concerned.
''He [victim David Raeside] was on the ground and he has been beaten to a pulp and if that's not enough, he's then stomped on.''
Graphic video filmed by a passer-by shows Dominic Walker, wearing a Richmond beanie, punch Mr Raeside 15 times and then stomp on his head three times, while Sam Walker repeatedly punches the other victim, Leonard Tricarico. Fitt goes between the two pairs, punching both victims.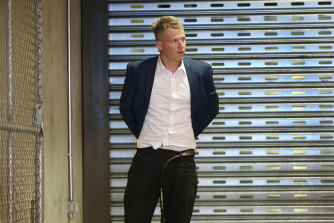 The court heard the two parties had been drinking alcohol at the football in the hours beforehand and had a verbal altercation outside the Pullman Hotel, and Mr Raeside was kicked to the thigh. Mr Raeside and his friend then ran into a side street.
Prosecutor Nicholas Batten said Mr Tricarico and Mr Raeside later returned to Wellington Parade, where the Walker brothers were seated in a taxi.
Mr Tricarico grabbed Fitt and punched the taxi window. At that point, the brothers got out and the three younger men bashed the other two.
Mr Raeside, aged in his 60s, suffered bleeding to the brain and facial fractures, and Mr Tricarico, aged in his 40s, suffered a fractured wrist and bruises to his head and face.
In the video, one of the younger men screams: ''You are going to f—ing die, I am going to f—ing kill you.''
Dominic Walker, his lawyer said, returned to Melbourne on the day of the AFL game after a six-month stint in Guatemala, where he was implementing sustainable farming practices.
On the way to the football, Mr Halphen said, Sam Walker told his brother of his mental health problems and he had been unable to stop thinking about suicide. Mr Halphen said his client abused alcohol in Guatemala as he struggled with loneliness, and that night chose to ''obliterate'' himself by drinking to forget what his brother told him.
Sam Walker spent about two hours in custody on the day of the sentence last year before he was granted bail when he launched an appeal.
His lawyer, Dermot Dann, QC, said on Monday that it was ''not reasonably open'' for his client to get a longer jail term than Fitt when as part of a plea deal with prosecutors, it was agreed Sam Walker played the lesser role of the trio.
Mr Dann said his client was initially taken to the ground by Mr Tricarico and was acting in self-defence when he fought the other man.
''We say that despite how horrifying the video is … a serious injustice has occurred in his case,'' Mr Dann said.
Sam Walker had his bail extended to Tuesday when his appeal continues.
Adam Cooper joined The Age in 2011 after a decade with AAP. Email or tweet Adam with your news tips.