In the meantime, brace yourselves for the coronavirus-related biotech bubble.
It feels a bit like the dot.com bubble of 2000. When that burst there were only a few winners but plenty of investors nursing financial burns.
Coronavirus has thus created a speculator's dream. In the US alone at least 12 biotech companies have announced an involvement either in vaccination or treatment, according to Needham & Company biotech analyst Alan Carr.
There will be room for more than one player to benefit commercially from developing drugs to combat the virus – but most of the declared hopefuls won't.
Until now the only Australian horse declared in the race to date is Queensland University – so no opportunity to make money there.
Although it had only declared its involvement on Tuesday CSL had already caught a small dose of the enthusiasm bug with its shares having risen more than 14 per cent through January.
Loading
Meanwhile, protective medical glove maker Ansell has also been a strong performer over January with its shares up 10 per cent – a movement that could in part relate to the potential for increased demand for its products in response to coronavirus.
But the uplift in CSL and Ansell is tame relative to that being experienced by some of the US biotechs.
It seems the mere mention of coronavirus by a biotech company and its share price bounces or even soars.
Take Vir Biotechnology – its share price soared 110 per cent when it mentioned it was working on a coronavirus drug.
But on Friday the shares went into retreat as investors switched their bet to another biotech that they considered more likely to succeed in containing the virus.
It seems US biotech giant Gilead Sciences became the most recent to issue a statement about its entry to the coronavirus space and the stock jumped 5 per cent on Monday night.
This is despite the fact that the statement from Gilead's chief medical officer was highly conservative. He wasn't making any promises.
"Gilead is focused on contributing our antiviral expertise and resources to help patients and communities fighting 2019-nCoV," it said.
It will do so "through the appropriate experimental use of our investigational compound remdesivir".
Loading
This drug is better known for its treatment of Ebola.
Gilead said it was working with health authorities in China to establish a randomised, controlled trial to determine whether remdesivir can safely and effectively be used to treat the virus
"While there is no antiviral data for remdesivir that show activity against 2019-nCoV at this time, available data in other coronaviruses give us hope."
This hope seems to be contagious. It now appears to have become the favourite among some analysts. Morgan Stanley's biotech analyst, however, appears to favour Moderna and Regeneron.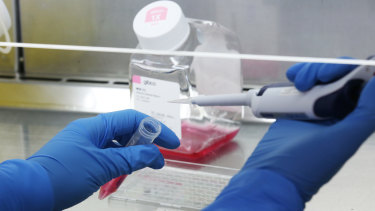 "Moderna has a potential benefit over traditional vaccine makers in that once it has the sequences that code for the most immunogenic part of the virus' surface proteins, or antigens, management can rapidly make a clinical development candidate," the bank's analyst Matthew Harrison said in a note to investors.
US Pharmaceutical group Inovio is another that dropped coronavirus into a statement to investors in January. This company received an initial $US9 million grant and is looking to run a Phase 1 trial in China.
And while its shares skyrocketed 37 per cent on the news, the stock has since come back down to earth thanks to analysts questioning the likely time-frame of when any vaccine would become available.
Arguably it's a much safer bet to sell or short stocks that will be losers from coronavirus.
Airlines hotels, casinos and companies that are suppliers to China will be negatively impacted – it is just a matter of degree.
Elizabeth Knight comments on companies, markets and the economy.